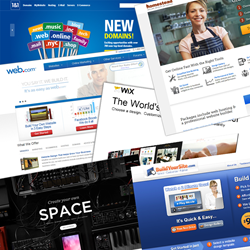 With so many website builders out there, it's hard for a small business to know which ones are good and which ones to stay away from. They don't have time to research them all.
(PRWEB) April 15, 2014
The landscape of web design has changed drastically over the last 10 years with the growth of website builders like Squarespace, the company founded in 2004 that broke into the mainstream market with a Super Bowl commercial in 2014.
Website builders like Squarespace provide "drag-and-drop" web interfaces to allow people with no knowledge of HTML to easily create a website in few hours. With the high quality websites that can be produced with Squarespace and other popular website builders like Weebly and WiX, one would think that freelance web designers are becoming uneasy.
One website designer has embraced this new growth in website builders and recently released a video on Youtube to help business owners in choosing a website builder.
Ryan Bowman of WebEminence.com creates websites for small businesses, but also recognizes that many small businesses need to build a website in-house because of budget concerns.
Bowman said, "With so many website builders out there, it's difficult for a small business to know which website builders are good and which ones to run away from. They just don't have the time to research them all."
To help small businesses with this problem, Bowman does reviews of website builders on his website and blog at WebEminence.com. His reviews are unbiased and he also provides video walkthroughs through his Youtube channel.
People are often confused at the free help offered by WebEminence.com.
Bowman said, "Business owners I talk to are usually skeptical about why I offer help. I like to help, but I won't deny I'm also trying to build a business. I explain to people that some of the services I recommend pay affiliate commissions and some people actually end up signing up for my services. So even though I don't charge to help people, there is a benefit to connecting with so many people looking to build websites."
The help is provided through many different venues including live chat on WebEminence.com, Youtube commenting, email and phone conversations. Bowman helps 20-30 people per week currently., but expects the number to increase as traffic to his website and Youtube video increase.
Bowman attributed some of this marketing style to a book called Youtility by best selling author Jay Baehr. "I was already doing this type of help marketing before I read the book, but the book helped me solidify in my mind that the "help marketing" approach is a unique way to grow my business. The book also gave some new insight for how to do it better."