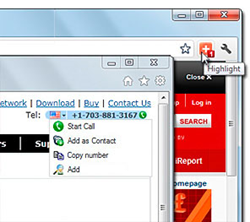 It's essential to act now and carry out Chrome Web Store development work needed to ensure acceptance sooner rather than later.
Alexandria, VA (PRWEB) April 12, 2014
BestToolBars, the development agency behind the cross browser extension framework has issued a reminder to developers to prepare for next month's planned changes to Chrome Web Store requirements.
The May deadline will restrict users to Web Store only extensions and will prohibit the installation of third party apps. Ahead of the move, which Chrome announced in January but postponed until May, BestToolBars has warned developers to prepare for the change and factor the tougher requirements for successful Chrome extension development into all projects. While users can currently run extensions not from the Web Store, they will be locked out after next month.
Valery Kuznetsov, Key Projects Manager at Besttoolbars said, "It may seem at first glance like the looming deadline calls for nothing more than uploading existing extensions to the Chrome Web Store. However, in reality this is quite a complex process with many pitfalls and the requirements to get an extension approved can be demanding. It's a very good idea for developers with extensions not already approved by the Web Store to get the ball rolling now, leaving sufficient time to make add-on changes as dictated by the store for approval.
"Developers leaving it too late will suddenly find they are locked out from their audience with total restrictions imposed which will bar non-Web Store extensions on 1st June. They will simply not install and no developer can afford to wait for this audience switch off. It's essential to act now and carry out Chrome Web Store development work needed to ensure acceptance sooner rather than later."
With proven Chrome Web Store development solutions, BestToolBars is the natural choice for any extensions not currently accepted by the Web Store.
To find out more, visit http://besttoolbars.net/services/chrome_extension_development/.
About Besttoolbars
Besttoolbars is a company well known for creating browser toolbars and add-ons. It has worked with an array of global brands, from start-ups to high-profile Fortune 500 corporations including Amazon, Skype, IBM, DHL, TNT and Intel. More than 7000 companies currently use solutions created on the Besttoolbars platform. Its product line includes:
Toolbar Studio: IDE for designing toolbars for Internet Explorer and Firefox
Add-ons Framework: Framework for building add-ons for Internet Explorer, Firefox, Chrome, Safari, and Opera
Besttoolbars also offers a number of services to help businesses integrate their products with desktops and mobile phones. It provides custom browser development, add-ons, add-ins and mobile app development.