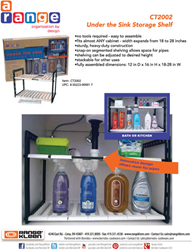 Lima, Ohio (PRWEB) April 13, 2014
Range Kleen launched the Under the Sink Storage Shelf at the 2014 IHA Show in efforts to help keep cupboard space under your kitchen and bathroom sink organized while increasing storage space in an already tight space. The Under the Sink Storage Shelf was brought back by popular demand and is now a part of the New aRange™ Organization by Design line. The heavy duty construction is sturdy and offers adjustable height and shelving that expands from 18 to 28 inches wide. No tools are required for assembly simply snap on shelving segment pieces where needed. Designed to fit around any pipe configuration.
Another great storage solution highlighted at the IHA Show is the folding Step Stools. Available in a single step or Two Step- Step Stool this product offers an extra hand when storing your favorite household items or just a boost around the kitchen. The folding step stools are slim, and can provide a convenient boost anywhere in the home, office or workshop. Unfolded, the single step Step Stool is 9 inches tall and holds up to 300 lbs. Constructed of a rigid, sturdy plastic designed for durability. No-slip rubber grips on feet and traction pads are also provided on the top of stool. The Two Step- Step Stool is now available in a NEW color, Grey which helps hide dirt from shoes. The Two Step- Step Stool is also easy to store and measures 17.5 inches unfolded.
About Range Kleen Mfg., Inc.
Range Kleen Manufacturing, Inc. is a Lima, OH based company manufacturing household products sold to major retail chains globally and has been taking care of the customer (TCOTC) since 1971. Its product divisions include: Original Equipment Manufacturing Quality (OEM) replacement drip pans for ranges & stoves; Non-stick Metal Bakeware; Kitchen Decorative products specializing in exclusive licensed designs; Storage, Organization, insulated food and beverage bottles and household cleaning supplies. Range Kleen introduced their own line of cookware- Stainless Steel and Enameled Cast Iron as well as pot racks in 2007. Effective December 21, 2009, Range Kleen Manufacturing was pleased to announce the partnership with Berndes Cookware USA and has taken the lead of all sales, marketing and shipping of Berndes Cookware USA from their International Headquarters in Lima, Ohio.