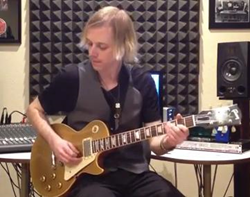 (PRWEB) April 11, 2014
A "riff" is the catchy part of a song that sticks in your head. One of the most recognizable guitar riffs of all time is "Smoke on the water" by Deep Purple.
"Here is a great example of how the blues segued into Rock and Roll," says MacLennan. "This is a blues in the key of C." Jon demonstrates this easy blues riff as follows; first finger on the 8th fret of the 6th string and 3rd finger on the 10th fret of the 5th string strummed twice as eight notes (1 &) and then he moves the note on the 5th string from the 10th fret to the 12th fret using his fourth finger and strums that once and then back to the 10th fret once, played as 8th notes (2 &) and then repeats the whole sequence for beats three and four (3 & 4 &). Jon repeats this sequence for a total of four measures and then he moves the sequence from the 6th and 5th strings to the 5th and 4th strings and repeats it twice for a total of two measures and then back to the original position for two measures. Next, he moves the sequence to the 5th and 4th strings starting on the 10th fret for one measure and then back to the 8th fret for one measure and then finally ending back at the original position for two measures. Guitar TAB's are available at BluesGuitar.com.
Winfield Scott "Scotty" Moore III was an American guitarist from Gadsden Tennessee. Scotty is best known for being the guitarist for Elvis Presley during the first part of his career. Scotty played on most of Elvis's hits including Hound Dog, Blue Suede Shoes and Heartbreak Hotel. Scotty made Rolling Stones list of 100 Greatest Guitarists of All Time and was inducted into both the Rockabilly Hall of Fame and the Rock and Roll Hall of Fame. Scotty passed away in 2007.
Jon MacLennan
Los Angeles based guitarist Jon MacLennan began his career at the age of 16 and is one of the busiest upcoming session guitarist, artist, composer, producer, and professional educator in LA. Jon has done session work for Julian Lennon, Steven Tyler, and British pop star Jamie Cullum. He has appeared on Disney channels "The Suite Life of Zack and Cody" and on the sound track to the movie "Marley and Me 2 – The Puppy Years". MacLennan earned a bachelor's in ethnomusicology and jazz guitar studies from University of California, Los Angeles, and has been mentored by Carl Verheyen, Wolf Marshall, Kenny Burrell, Anthony Wilson, Tamir Hendelmen, Jimmy Wyble and Ron Anthony which has made him a highly sought after guitar instructor today.
About BluesGuitar.com
BluesGuitar.com is the leader in modern blues guitar instruction. It's packed with recourses including articles, video lessons, and the best videos in the business for the beginner to the advanced guitar student taught by the best instructors out there.