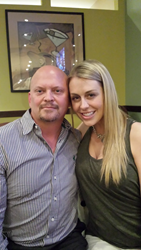 Phoenix, AZ (PRWEB) April 11, 2014
David Gergen has announced Gergen's Orthodontic Lab and Pro Player Health Alliance (PPHA) continue to add to their production growth and hiring. Gergen's Orthodontic Lab has upheld the reputation as one of the largest manufacturers of the Sleep Herbst in the country and expects 2015 to be a record year. Regarding the topic of his newest employees, the President of Gergen's Orthodontic Lab and PPHA says, "I am going to have Courtney Meier, the most recent addition to the team, be involved in a big way".
Courtney Meier has already began to accompany David Gergen on his travels across the United States, aiding his mission to improve the dental sleep medicine industry with their latest trip being to San Francisco April 4-5. Mr. Gergen has created a tidal wave of awareness of sleep apnea to dentists, current and former NFL players and the general public as a whole already but says his plans aren't to stop here.
Mr. Gergen mentions that while sleep apnea is a big part and often overseen aspect of overall health, Courtney Meir was the inspiration behind including nutrition and exercise in his endeavors. Look for David Gergen, Gergen's Orthodontic Lab, Pro Player Health Alliance along with Courtney Meier to continue to improve the daily lives of thousands more in the years to come.
ABOUT DAVID GERGEN
As President of Pro Player Health Alliance, he has been a nationally respected dental lab technician for over 25 years. He received the award for "The Finest Orthodontic Technician in the Country" given by Columbus Dental in 1986. He also has been appointed chair of the dental wing of the American Sleep and Breathing Academy, a national interdisciplinary academy dedicated to sleep training and education. He has worked for some of the pioneers in the orthodontic and sleep dentistry fields. One of his proudest achievements is receiving The National Leadership award for Arizona Small Businessman of the Year in 2004.
ABOUT PRO PLAYER HEALTH ALLIANCE
The Pro Players Health Alliance (PPHA) is an organization dedicated to helping former NFL players, through providing testing and treatment options for those who suffer from sleep apnea. In addition, the PPHA is dedicated to integrating education and raising sleep apnea awareness, in a fun and memorable way. In addition to the campaign, the PPHA is dedicated to testing and getting people treated who suffer from sleep apnea. The PPHA was created by David Gergen, President of Gergen's Orthodontic Lab and Former NFL legends.