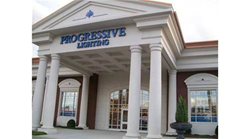 "To even be nominated for this award is very special. I think it not only reflects on our hard work, but it also speaks to the strength and diversity of the housing and design communities in Atlanta."
Atlanta, GA (PRWEB) April 13, 2014
The 14th Street location of Progressive Lighting, Atlanta's leading residential lighting retailer, has been nominated for the prestigious Showroom of the Year Award by trade publication Residential Lighting Magazine.
Located at 650 14th Street in Atlanta, the retail location is one of five Progressive Lighting locations in the Metro Atlanta area. Due to its location in the heart of the fashionable West Midtown district, it's also one of the busiest showrooms in the chain as well.
"We're especially proud of this nomination," said marketing director Jesse Gibson. "It means a great deal when your peers recognize the effort and thought that you put into your showrooms. We're certainly proud of the effort we put into every aspect of our business, and this includes the design of our stores."
About Residential Lighting Magazine's Showroom of the Year Award
The fifth annual Residential Lighting Showroom of the Year Award is presented each year at the annual Dallas International Lighting Market Conference, one of the major conferences in the international residential lighting industry. The 2014 Showroom of the Year presentation will take place in June, and will be awarded in a special reception at the Conference. The Showroom of the Year competition focuses on the unique characteristics and philosophy of leading residential lighting showrooms around the world. As a result, the competition can be extremely stiff. "To even be nominated for this award is very special. I think it not only reflects on our hard work, but it also speaks to the strength and diversity of the housing and design communities in Atlanta," said Progressive Lighting's owner and business manager, Troy Lee. "Even more satisfying is knowing that our nomination comes about as a result of votes from our peers in such a highly-competitive industry."
Nominees for the Showroom of the Year Award will also be featured in the April issue of Residential Lighting Magazine, providing exposure to both the stores and their cities to readers of the flagship lighting industry magazine.
This nomination continues Progressive Lighting's incredible growth in recent years. Not only are the brick-and-mortar stores being recognized for their creativity and customer service, but the establishment of their residential lighting e-commerce solution has given Progressive Lighting a strong foothold in the future of a constantly changing industry.
"We always strive to be more than just another residential lighting retailer. We want to be the knowledge resource that our audience deserves. The Progressive Lighting family wants to make sure that we continue to provide our guests and customers with maximum value, even if they never make a purchase," said Lee.
Contact
To learn more about Progressive Lighting's award-nominated showroom, you can visit in person at 650 14th Street, Atlanta, GA 30318. Or you can view Progressive's online residential lighting store at LightsOnline.com.