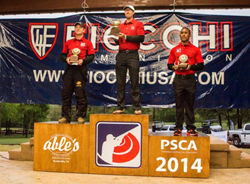 (PRWEB) April 14, 2014
The Professional Sporting Clays Association (PSCA) held its first event of the 2014 professional tour April 5th-6th, at Ables Gun Club in Huntsville, TX.
Both men and women competed in the professional and amateur categories. The competition was aggressive through two days of shooting. Following completion of the event, standings are as follows:
Men's Professional Division:
1st: Gebben Miles (283)
2nd: Brian Hughes (277)
3rd: Theo Ribbs (277)
Women's Professional Division
1st: Desirae Edmunds (259)
2nd: Diane Sorantino (241)
3rd: Ashley Little (228)
Men's Amateur Division
1st: David Bishop (96)
2nd: Brent Irons (92)
3rd: Mark Tipton (87)
Women's Amateur Division
1st: Deborah Davis (89)
2nd: Tara Creighton (78)
3rd:Chelsea Davis (57)
Comprehensive results may be viewed at http://www.psca.com. This event was the first stop in the PSCA Tour before the culmination of competition at the Champion of Champions event to be held in San Antonio, TX, July 28th-29th, at The National Shooting Complex.
Media may register for credentialing at psca.com/contact-us/media-press. If you wish to attend the event as a spectator, ticket information may be found at http://www.psca.com. For any additional questions, please contact PSCA Match Director Lynne Green at lgreen(at)psca(dot)com or (214) 675-8855.
About The Professional Sporting Clays Association
The purpose of the Professional Sporting Clays Association (PSCA) is to provide a professional tour for top athletes. This tour will give qualified top athletes of the sport greater access to closed competition with other athletes of similar skill. It will also provide access to media and other notoriety, which in turn will allow them all of the benefits of other professional sports. By creating such an association, the benefits will not be limited to the professional athletes, but also to amateur competitors, club owners, and the entire industry by allowing greater mainstream acceptance of the sport. Updated news and events news regarding PSCA can be found at http://www.psca.com and by following PSCA at facebook.com/PSCAtour and twitter.com/PSCAtour.