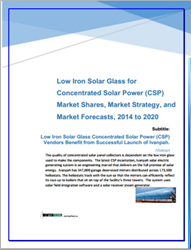 Rockville, MD (PRWEB) April 30, 2014
Low Iron Solar Glass for Concentrated Solar Power (CSP) Market Shares, Market Strategy, and Market Forecasts, 2014 to 2020
WinterGreen Research announces that it has published a new study Low Iron Solar Glass Concentrated Solar Power (CSP) Market Shares, Strategy, and Forecasts, Worldwide, 2014 to 2020. The 2014 study has 565 pages, 303 tables and figures. Worldwide markets for Low Iron Glass for Concentrating Solar Power (CSP) are poised to achieve significant growth based on an expectation of rapid adoption of CSP worldwide. As soon as a market has 100 paying reference accounts, it becomes a viable market. CSP solar systems have reached that market inflection point.
Growth potential of the CSP sector is strong, part of the solar growth that is poised to make solar energy represent 90% of the world's energy production within 25 years. Just as smart phones grew rapidly once the price points were affordable and the economies of scale large enough to drive down prices for the markets to achieve significant growth, so also solar markets will take off. CSP has a strong ability to reduce the cost of electricity produced. Compound annual growth rates are expected to be made meaningless by penetration analysis when the markets grow rapidly.
To order this report:
Low Iron Solar Glass for Concentrated Solar Power (CSP) Market Shares, Market Strategy, and Market Forecasts, 2014 to 2020
Contact: Shauna
800.298.5699
Customerservice(at)marketresearch(dot)com
WinterGreen Research
WinterGreen Research, founded in 1985, provides strategic market assessments in telecommunications, communications equipment, health care, Software, Internet, Energy Generation, Energy Storage, Renewable energy, and advanced computer technology.
MarketResearch.com
MarketResearch.com is the leading provider of global market intelligence products and services. With research reports from more than 720 top consulting and advisory firms, MarketResearch.com offers instant online access to the world's most extensive database of expert insights on global industries, companies, products, and trends. Moreover, MarketResearch.com's Research Specialists have in-depth knowledge of the publishers and the various types of reports in their respective industries and are ready to provide research assistance.
Follow us on Facebook http://www.facebook.com/marketresearchdotcom
Follow us on Twitter http://www.twitter.com/marketresearch_
Low Iron Solar Glass for Concentrated Solar Power (CSP) Market Shares, Market Strategy, and Market Forecasts, 2014 to 2020 - Table of Contents:
1. LOW IRON SOLAR GLASS CONCENTRATED SOLAR POWER (CSP) MARKET DESCRIPTION AND MARKET DYNAMICS
2. LOW IRON SOLAR GLASS CONCENTRATED SOLAR POWER CSP) MARKET SHARES AND MARKET FORECASTS
3. LOW IRON SOLAR GLASS CONCENTRATED SOLAR POWER (CSP) PRODUCT DESCRIPTION
4. LOW IRON SOLAR GLASS CONCENTRATED SOLAR POWER (CSP) TECHNOLOGY
4.1 Wind Tunnel Testing
4.1.1 RioGlass Wind Tunnel Testing
4.1.2 CSP Glass Production Processes
4.2 Parabolic Mirrors Solar Generation Elements
4.2.1 Solar Receiver
4.2.2 Key Parameters For The Yield Of A CSP Plant
4.3 Ceramic Mounting Pads For Bonding
4.4 Energy Reflection
5. LOW IRON SOLAR GLASS CONCENTRATED SOLAR POWER (CSP) COMPANY DESCRIPTIONS