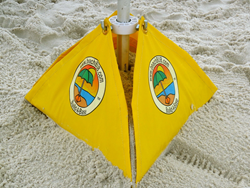 "...We believe this product will be the number one choice among beachgoers." -Mason Schermerhorn
Naples, FL (PRWEB) April 23, 2014
beachBUB USA Launches Newly Patented Beach Umbrella Base for Summer 2014
beachBUB™'s beach umbrella base performance test has been completed. Rated for use in 45 mph winds.
beachBUB™ USA realizes that there has become an undeniable need for beachgoers to have a way to secure their beach umbrellas. A sunny day on the beach can also mean a windy one, and with one big gust of wind, the umbrella can be lifted up and carried down the beach. Everyone has been there. Whether it be a personal umbrella or someone else's, the worry of an unpredictable umbrella is enough to call it quits for some. So far the digging and screwing of current beach umbrella anchors isn't cutting it. People are still sacrificing their skin to the sun rather than going through the trouble of putting up an umbrella that may fly away moments later.
The solution is here. beachBUB™ USA, founded on the newly patented beach umbrella base, launched the first production run in February of this year – five years after the invention ingenuity took place, and two and a half years since obtaining the patent. This launching was in anticipation for the upcoming summer season, to gain informative test markets and build the brand from the ground up. The umbrella base was introduced at the local farmers market in Naples, Florida and was greeted with much success with over 500 sold.
"We are very impressed with the positive response to the product in the small market we have tested it in (Naples, FL)," said co-owner and investor Mason Schermerhorn. "This has given us the confidence to locate and attempt to introduce the product along the East Coast, which we will be focusing on in summer 2014."
beachBUB™ USA engineered the umbrella base to work similarly to a patio umbrella stand in which the base is attached to the umbrella pole and the weight of beachBUB™, when filled with sand, is similar to the weight of the patio base (but without the hassle of carrying the weight everywhere you go!). The weight of the beachBUB™ is less than half a pound, meaning there is virtually no added weight to your beach load and everything you need is on the beach – 120 lbs. of sand!
"With no other product on the market that can keep an umbrella stable at 30 mph plus winds, we believe this product will be the number one choice among beachgoers," continues Schermerhorn. "The safety and complete ease of assembly that this product offers will be the true testament to tower over all other competitors' products across the board."
About beachBUB™ USA:
beachBUB™ USA is a family owned and operated company based in Colfax, NC and envisioned in Naples, FL.
Marketing/Sales Contact:
Lucy Schermerhorn
http://www.beachbub.com
336-580-0189