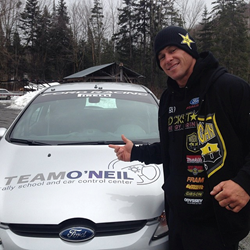 Team O'Neil took incredible care of each of our guests. - Rockstar Marketing Manager Heather Rodman
Littleton, NH (PRWEB) April 15, 2014
Seven lucky winners of Rockstar Energy Drink's "Pure Zero Instagram Contest" along with professional FMX athlete, Todd Potter, visited the world famous training grounds of Team O'Neil Rally School in Dalton, NH last weekend for a once in a lifetime training session. Legendary Rockstar team athlete Brian Deegan and the elite instructors at Team O'Neil treated the winners to two unforgettable days of advanced driver training at the same facility that has instructed World Champion Rally drivers and the biggest names in the sport, including every winner of the Rally America Rookie of the Year award.
"The rally school was an incredible experience," said Rockstar Marketing Manager Heather Rodman. "Team O'Neil took incredible care of each of our guests and by the end of the trip, everyone was all smiles. The instructors are knowledgeable and patient, the course is beautiful, and the cars are fast!"
Winners were chosen from tens of thousands of entries via national and regional contests in conjunction with Ford Racing and Rockstar retailers, Circle K, Kum N Go, and Plaid Pantry and were flown to New Hampshire for the two day experience.
About Team O'Neil: Team O'Neil is known as the premier location to learn how to drive on loose surfaces. 5-time North American rally champion Tim O'Neil has handbuilt the roads to mimic all the situations he has come across in decades of rallying. Team O'Neil has trained every winner of the Rally America Rookie-of-the-Year award.
About Rockstar: Rockstar Energy Drink is designed for those who lead active lifestyles – from Athletes to Rockstars. Available in over 20 flavors at convenience and grocery outlets in over 30 countries, Rockstar supports the Rockstar lifestyle across the globe through Action Sports, Motor Sports, and Live Music. For more information visit: http://www.RockstarEnergy.com.