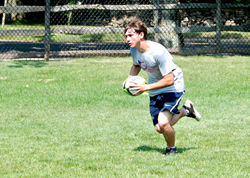 'We are excited to expand our rugby camp network this summer to so many new locations where is such demand for high-quality rugby coaching,' said director Paul Keeler
San Francisco, CA (PRWEB) April 18, 2014
The national leader in summer rugby instruction, the U.S. Rugby Camps has published their 2014 summer rugby camp schedule. Thousands of rugby athletes attend these camps annually to get better, learn new skills, and have fun. Overnight and day rugby camps are offered at eight locations nationwide. The camps are open to boys of all ability levels.
The U.S. Rugby Camps have a unique balance between instruction and daily matches at their camps, providing campers with the opportunity to learn new skills while also gaining important competitive experience.
The camps are directed by Santa Clara University Head Coach Paul Keeler. Paul and Co-Director, Eugene Mountjoy, are also the founders of the U.S. International Rugby Academy, a popular training ground for aspiring rugby players in the Bay Area. The camps staff is comprised former U.S. national team players and college coaches, all of whom share a commitment to the individual development of each camper. Additional staff will specifically include J.D. Stephenson (Lindenwood University Head Coach), Kevin Battle (D1 A Collegiate Director), Salty Thompson (HS All-Americans Coach), Mose Timoteo (former Eagle), Johnny Naqica (former Eagle) and Steve Lewis (Northeast Development Academy).
2014 camp locations will include many rugby hotbeds such as California, Colorado, Oregon, New, York, New Jersey, and Connecticut. "We are excited to expand our rugby camp network this summer to so many new locations. We have certainly seen the demand for top-notch rugby instruction and we are committed to helping develop the next generation of players in these communities," said director Paul Keeler. Co-Director Eugene Mountjoy added, "We have seen a surge in rugby interest over the past few years and would like to continue offering a great camp experience for these players who are striving to improve."
Each location will have overnight and day camp options, and are open to boys ages 9-18.
Interested prospective campers can learn more about the U.S. Rugby Camps and view the 2014 rugby camps schedule at http://www.usrugbycamps.com.
The U.S. Rugby Camps are a division of eCamps, Inc. eCamps is a nationally recognized operator of summer sports camps. Other camps include the GameBreaker Lacrosse Camps, Revolution Field Hockey Camps, adidas Tennis Camps, Revolution Softball Camps, Fusion Swim Camps and International Squash Academy.