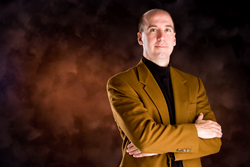 Shift happens. In order to get ahead, leaders in the Real Estate Industry must become aware of the extraordinary changes taking place across today's global landscape, and seize them
Las Vegas, NV (PRWEB) April 22, 2014
April 22-25, the Society of Industrial and Office Realtors (SIOR) 2014 Spring World Conference is taking place at The Cosmopolitan in Las Vegas, NV and trend expert and bestselling author Jack Uldrich will deliver his keynote speech, "The Big AHA: How to Future-Proof Your Business Against Tomorrow's Shift."
Ranked among the most important events of the year, the SIOR World Conferences are for SIOR designees and others involved in the sale or lease of commercial real estate. The group meets biannually to increase their professionalism, enhance their business networks, and enhance their knowledge of the latest trends with sophisticated educational programming like Uldrich's keynote.
Drawing on highlights from his upcoming book: "Business as Unusual: How to Future-Proof Your Business Against Tomorrow's Trends, Today," Uldrich will share insights on the Internet of things, Big Data, and the Big AHA with SIOR audience members. For more on Uldrich's thoughts on the Big AHA, read his latest article here.
An internationally respected expert on future trends, strategic planning, leadership and unlearning, Uldrich has advised hundreds of professional, business, and governmental organizations and has served as a commentator on CNN, CNBC, NPR, and James Woods' "Futurescape."
Parties interested in learning more about Jack Uldrich, his books, his daily blog or his speaking availability are encouraged to visit his website at: http://www.jumpthecurve.net.
Media wishing to know more about the event or interviewing Jack can contact Amy Tomczyk at (651) 343.0660.
Jack Uldrich is a renowned global futurist, technology forecaster, best-selling author, editor of the monthly newsletter, The Exponential Executive, and host of the award-winning website, http://www.jumpthecurve.net.