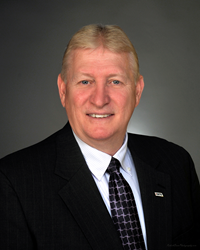 HNTB is honored that a professional of Ken's impressive standing has chosen to join our firm.
Tampa, Fla. (PRWEB) April 11, 2014
Ken Hartmann, PE, has joined HNTB Corporation as vice president and client service leader for the firm's largest client, the Florida Department of Transportation. Hartmann is well-known to the transportation industry, having spent more than three decades delivering infrastructure programs in Florida. He is located in HNTB's Tampa office.
Hartmann spent the bulk of his career with FDOT, where he was responsible for, or worked in, all aspects of design and construction, including project management, cost estimating and quality control. As District Seven (West Central Florida) secretary for FDOT from 1998 to 2005, he managed a $1 billion annual program and a staff of 700.
"HNTB is honored that a professional of Ken's impressive standing has chosen to join our firm," said Adrian Share, PE, senior vice president and Florida district leader. "Ken's legacy and understanding of FDOT across the state will further our partnership with this client and assist in our growth plans over the coming years."
HNTB's experience with FDOT covers the entire life cycle of highway, toll road, rail/transit, major bridge and many other types of projects for more than six decades. The firm proudly serves as general engineering consultant for FDOT Districts One, Three, Five and Florida's Turnpike Enterprise. Hartmann is a registered professional engineer in Florida and Virginia. He holds a Bachelor of Science, civil engineering, from Florida International University and an Associate of Arts from Broward Community College.
About HNTB
HNTB Corporation is an employee-owned infrastructure solutions firm serving public and private owners and construction contractors. Now celebrating a century of service in the U.S. and 60 years in Florida, HNTB continues to grow in size and service offerings to clients from 13 regular office and on-site locations, currently employing approximately 380 full-time professionals. HNTB understands the life cycle of infrastructure and addresses clients' most complex technical, financial and operational challenges. Professionals nationwide deliver a full range of infrastructure-related services, including award-winning planning, design, program delivery and construction management. For more information, visit http://www.hntb.com.