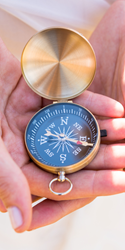 Dunmore, AB (PRWEB) April 15, 2014
Sparked by an increased passion for travel, exploring and a greater interest in destination weddings, many couples getting married in 2014 are choosing to show off their wanderlust when tying the knot. To help put a unique touch on the travel theme, wedding décor designer Weddingstar introduces the Wanderlust Collection which inspires globetrotting couples to share their love for adventure.
Explore the collection and unique ways to create a wanderlust theme at: http://www.weddingstar.com/theme/wanderlust-travel.
Destination Weddings Grow in Popularity
More than ever, couples are looking to different destinations to give their wedding its own unique touch. Destination weddings have been on the rise in recent years and according to research by XO Group Inc., 24 percent of U.S. couples now choose to have destination weddings. From tropical islands to Old World chateaus, today's couples are keen to show their increasing appreciation for traveling through themed décor details.
Rising to meet this demand, Weddingstar's new Wanderlust Collection helps bring the theme to life with popular items including:

Guest books and wishing wells with a globetrotting theme.
Cake toppers featuring couples ready to explore the world by boat, car, or motorcycle.
Gifts for guests, including tote bags and DIY-friendly favors.
Wandering from "Save the Date" to "Thank You!"
Wanderlust designs however don't only apply to the day of the wedding – today's couple also wants their theme to come through in all their wedding stationery. From the first engagement announcement right through to the thank you cards, the modern couple wants guests to have a total theme experience throughout the entire wedding process. With Weddingstar's Wanderlust stationery collection featuring adventure-themed invitations, table numbers, luggage tag inspired thank you cards and more, this kind of total immersion is just what the modern duo can get. And, to tie it all together, couples can add an extra touch by using Weddingstar's travel stickers or rubber stamps so their passion for travel won't go unnoticed.
More information and images of Weddingstar's Wanderlust Décor and Stationery Collection can be found at: http://www.weddingstar.com/theme/wanderlust-travel.
About Weddingstar
Weddingstar Inc. is one of the world's leading designers, manufacturers and retailers of wedding decorations and accessories. Dedicated to providing quality service to brides around the globe, Weddingstar ships to over 100 countries worldwide with distribution points in Europe, North America, Argentina, Australia and Russia. Featuring an ever-expanding selection of bridal accessories with over 3,000 different product offerings, Weddingstar is a one stop destination for every wedding need. With 30 years of experience in the wedding industry and having received numerous business awards, Weddingstar has earned a reputation as the source for 'Putting the Wow into Weddings.' For more information please visit http://www.weddingstar.com.