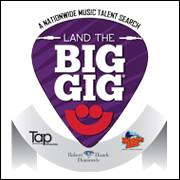 The third annual Land the Big Gig® music competition is now open, giving the nation's top musical talents the opportunity to win cash prizes and a chance to perform live before thousands of music fans at Summerfest.
Milwaukee, WI (PRWEB) April 11, 2014
The third annual Land the Big Gig® music competition is now open, giving the nation's top musical talents the opportunity to win cash prizes and a chance to perform live before thousands of music fans at Summerfest. Bands, musicians and singer-songwriters may enter the competition by uploading a video audition consisting of a live performance of an original song to LandtheBigGig.com through 11:00 a.m. CST on Monday, May 7. Presented by Summerfest, TapMilwaukee, Robert Haack Diamonds, and Noah's Ark with KNE (K-Nation Entertainment) providing the official sponsorship of New Music, Land the Big Gig® culminates in a live performance competition before thousands of Summerfest attendees.
Beginning Wednesday, May 9 at 11:00 a.m. CST, fans will vote for their favorite acts online. Fans may vote a maximum of five times per day for their favorite artists and those that vote will be entered to win a $2,000 sweepstakes prize. The top three finalists will be announced tentatively on Wednesday, June 11. Finalists will win a trip to Milwaukee to perform at Summerfest on the Briggs & Stratton Big Backyard Stage on Thursday, June 26 and have a chance to win a share of up to $100,000 in cash and prizes; grand prize is $20,000, first prize is $5,000, and second prize is $2,500. In addition to their cash prizes, all three finalists, will win recording time plus songwriting and mentoring resources from KNE Studios, the opportunity to be featured on a KNE New Music Stage Compilation CD and the opportunity to each perform a 30-minute set at a Land the Big Gig® encore showcase at Summerfest on the KNE New Music Stage the day after the competition, Friday, June 27.
"In the age of YouTube, 'American Idol' and 'The Voice,' the avenues for local bands to make it big are wide open," said Milwaukee Journal Sentinel Senior Director of Marketing and Agency Development, Thomas Baylerian. "Land the Big Gig® gives artists a chance to take the stage and advance their careers in the entertainment industry."
Summerfest, "The World's Largest Music Festival," features over 800 acts and 1,000 performances on 11 stages over 11 days, providing an unforgettable live music experience for nearly 900,000 music fans from around the world. For the past 47 years, Summerfest has been Milwaukee's cornerstone celebration, offering entertainment for everyone along the shores of Lake Michigan.
"We are excited to host Land the Big Gig® for the third year at Summerfest and help talented musicians from around the country realize their dreams of performing at a mega music event and winning cash and studio time," said Summerfest Chief Marketing Officer, John Boler. "Land the Big Gig® also gives fans the opportunity to win $2,000 when they vote online for their favorite artists."
Last year's competition spanned the country and almost 400 artists entered for their chance to Land the Big Gig® at Summerfest. In the end, the finalists hailed from Milwaukee, Wisconsin, San Antonio, Texas and Nashville, Tennessee.
Joining Summerfest, TapMilwaukee, Robert Haack Diamonds and Noah's Ark as Land the Big Gig® 2014 sponsors are KNE (K-Nation Entertainment), Pepsi, Wisconsin Vision and Boucher Auto Group.
Fans and contest entrants are encouraged to visit LandTheBigGig.com for updates and follow Land the Big Gig® on Facebook at Facebook.com/LandTheBigGig and Twitter at Twitter.com/landthebiggig.
About Summerfest
Summerfest 2014 will take place June 25 - 29 and July 1 - 6 from noon until midnight and will be closed Monday, June 30. Following its 1968 debut, Summerfest has evolved into what is now recognized as "The World's Largest Music Festival" and Milwaukee's cornerstone summer celebration, bringing the music industry's hottest stars, emerging talent and local favorites along with approximately 900,000 people from Milwaukee and around the world together each year for an unforgettable live music experience. During the festival, the spotlight shines on over 800 acts, over 1,000 performances, 11 stages, delectable food and beverages and interactive activities, all in a world-class festival setting. Patrons can also enjoy Miller Lite, the Official Beer of Summerfest. For more details, visit Summerfest.com, Facebook.com/summerfest or Twitter: @Summerfest.
About Tap Milwaukee
The Milwaukee Journal Sentinel's TapMilwaukee.com is Southeastern Wisconsin's essential guide to entertainment, providing everything you need to know about going out, staying informed and sharing that information with friends. Tap was created in 2011 to engage a growing market of readers who want local entertainment news at their fingertips. Our readers are passionate about things to do - from music to movies to dining and galleries – TapMilwaukee.com has it.
About Robert Haack Diamonds
Robert Haack Diamonds has been the leader in diamond and engagement rings since 1947. Each location has master gemologists available, along with master goldsmiths who are experts at jewelry repair and custom work, meaning they can create that piece of jewelry of your dreams. Robert Haack also helps the community by purchasing unwanted gold, silver and diamonds and comes highly recommended by the local media. What sets Robert Haack from its competitors is the no stress approach when buying or selling; getting a money saving deal with a huge selection to choose from and we treat you like family. For more details, visit RobertHaackDiamonds.com.
About Noah's Ark
Noah's Ark is located on 70 acres right in the heart of Wisconsin Dells, the waterpark capital of the world, featuring thrilling waterslides, two giant wave pools, two Endless Rivers, four children's water play areas, bumper boats and a mammoth 4-D movie theater. Noah's Ark also features Black Anaconda—America's Most Thrilling Watercoaster, Time Warp—the World's Largest Bowl Ride and Scorpion's Tail—America's First Near-Vertical Looping Waterslide. Noah's Ark is committed to providing the safest, cleanest, most unforgettable waterpark experience for the entire family, receiving the Top Award for Aquatic Safety every year since 1995. The park is open each year from Memorial Day weekend to Labor Day, offering an entire summer of fun under the sun. For more details, visit NoahsArkWaterPark.com.
About KNE
KNE (K-Nation Entertainment) is located in Grafton, Wisconsin (about 20 minutes from downtown Milwaukee). KNE's mission is to help in the music scene by offering a creative culture that fuels inspiration, ultimately to be the artists and musicians best friend. Now more than ever; people need help, people need guidance. KNE is building that dream and culture by designing a place where people will want to be that offers everything a musician could want. Some of KNE's many offerings include; Recording Studios, Writers Rooms, Band/Artist Rehearsal space, Soundstage, Band/Artist Bookings & Management, Music School,Graphics/Video/Social Media Design Group, In-House Promotions/Creative Team, and Rental Equipment to include – Sound, Lighting, Mobile Stage. Why can't we help the next big talent come out of Milwaukee? KNE is here to assist in making that dream come true. For more details, visit KnationEntertainment.com.