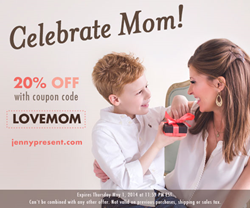 St. Louis, Missouri (PRWEB) April 14, 2014
Personalized jewelry retailer, jenny present®, has announced a Mother's Day sale from April 11 through May 1. By using the coupon code LOVEMOM during checkout, customers will receive a 20% discount on purchases.
jenny present®'s custom jewelry makes an ideal Mother's Day gift. By using a special hand-stamped process, jenny present® allows customers to add names, initials, or dates on a wide variety of pendants. Personalized jewelry is the perfect way to celebrate unique mothers, grandmothers, and wives this Mother's Day. Additional charms and pendants are available here, to enhance jewelry for new moms.
Just ask the celebrity moms who have recently been spotted wearing jewelry from jenny present®. Giuliana Rancic wore the Large Gold Pendant Hand Stamped Name Necklace while hosting E! News. The pendant was personalized with her son's name, Duke, and can be found here. Sherri Shepherd was seen sporting these handmade Silver Christian Earrings as co-host of ABC's talk show, The View.
With Mother's Day right around the corner, consider personalized mother's jewelry, available here, as a one-of-a-kind gift. Use the coupon code LOVEMOM during checkout, and receive a 20% discount from April 11 through May 1.
About jenny present®
jenny present® is a custom jewelry retailer based in St. Louis, Missouri. Jewelry designer and namesake, Jenny Present, started the company in 2008. Since then, the company has established a dedicated customer-base, robust e-commerce, and an increasing amount retailers. jenny present® has earned a reputation for providing stylish, one-of-a-kind jewelry and empowering women. For more information, please visit http://www.jennypresent.com.