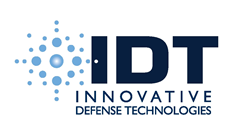 Arlington, VA (PRWEB) April 14, 2014
Innovative Defense Technologies (IDT), provider of automated software testing solutions for large complex systems, announces the release of ATRT: Information Security Manager. This new automated software security management product protects enterprise networks from cyber security threats through automated assessment, remediation and certification.
"At IDT, we are always striving to enable the testing and management of complex systems to be more thorough and efficient for our customers," said IDT's CEO, Bernie Gauf. "With the release of ATRT: Information Security Manager, we expand our capabilities to address the pressing need for continuous monitoring and greater cyber security in enterprise networks."
ATRT: Information Security Manager is a knowledge-based, automated solution that detects and resolves security vulnerabilities in enterprise information systems. It offers efficient cyber security protection through automated end-to-end security assessment, automated waiver processing and automated remediation. Compatible with existing scanning systems, ATRT: Information Security Manager increases security coverage and improves response time in the face of cyber threats, ensuring the integrity of enterprise networks.
ATRT: Information Security Manager (ATRT: ISM) is one of a suite of software testing capabilities built on IDT's Automated Test and ReTest (ATRT) technology platform. IDT's automated testing products and solutions have a proven reputation for improving software quality while saving time and decreasing costs.
To learn more about IDT or to request a demo of ATRT: ISM, visit: http://www.IDTus.com.
About IDT
Innovative Defense Technologies (IDT) is an Arlington, Virginia-based technology company that provides automated software testing, analysis and security solutions for large, complex systems. IDT's technology enables customers to test, assess and certify software with unprecedented efficiency and effectiveness. The company has been recognized by the U.S. Navy as a Small Business Success Story and as the SECAF Government Contractor of the Year. IDT has four U.S. locations in Arlington, VA; Fall River, MA; Mt. Laurel, NJ; and San Diego, CA.
Media Contact:
Janice Voth
703.822.7870
jvoth(at)idtus(dot)com
###