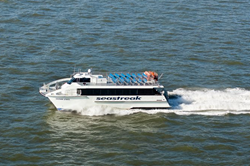 (PRWEB) April 12, 2014
In an effort to provide relief to New Jersey commuters during the planned reconstruction of the Pulaski Skyway, NJDOT has partnered with Seastreak to provide temporary ferry service between Atlantic Highlands, Jersey City and Hoboken. This service starts on Friday, April 11, 2014.
Estimated commute times using the ferry service from Atlantic Highlands will be 45 minutes to Jersey City and 1 hour to Hoboken.
Complete schedule and ticket pricing information is available at: http://seastreakusa.com/viewpage.aspx?page=jerseycityhobokenservice.