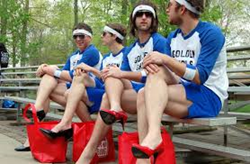 We are proud of these men, who are stepping up and taking a stand to raise awareness and stop sexualized violence against women.
Rhinebeck, NY (PRWEB) April 14, 2014
"Put Yourself in Her Shoes™" invites men to "Walk a Mile in Her Shoes®" and take to the streets wearing high heels to demonstrate support and raise awareness about the serious causes, effects, and remediations to men's sexualized violence against women. Established in 2001, the International Men's March to Stop Rape, Sexual Assault, and Gender Violence takes place throughout the year at locations all over the world, from the U.S. and Australia to Uganda and Japan.
Topical BioMedics is lending support to the first "Walk a Mile in Her Shoes" event of the year taking place in the Hudson Valley, happening on Saturday, April 26, 2014, from 10:00 a.m. – 12:30 p.m. at Samaritan Hospital's Lally Pavilion in Troy, NY. This is the seventh year that the walk has been held in Rensselaer County, and benefits the Sexual Assault and Crime Victims Assistance Program. Find out more about the fundraiser here: http://www.nehealth.com/walk_a_mile.
According to Lindsey Crusan, Director of the Sexual Assault and Crime Victims Program, it is anticipated that the Troy "Walk a Mile in Her Shoes" will draw 600 to 800 men who will unlace their shoes and don a pair of high heels. Topical BioMedics is providing samples of their safe, natural Topricin pain relief and healing cream formulas for the participants' goodie bags.
"Our Foot Therapy Cream will be especially appreciated by the men, who are sure to experience the pain of parading around in stilettos," says Lou Paradise,Topical BioMedics' president, chief of research, and product formulator. "It will help relieve their foot pain and soothe their soles."
Sexualized violence affects the victims, the men who care about them, their families, their friends, their coworkers, and their communities. And it is, unfortunately, a growing epidemic. Research has found that every two minutes, someone in America is raped, and one in six American women are victims of a sexual assault.
"The tide must turn, and sexualized violence cannot be tolerated, says Mr. Paradise. "We are proud of these men, who are stepping up and taking a stand. We commend their efforts to raise awareness and help stop the proliferation of violence against women, and their support of the vital work of the Sexual Assault and Crime Victims Assistance Program."
Frank Baird created Walk a Mile in Her Shoes in 2001 to benefit the Valley Trauma Center, which is now Strength United, located at California State University in Northridge, California. What started out as a small group of men daring to totter around a park in high heels has grown to become a world-wide movement with tens of thousands of men raising millions of dollars for local rape crisis centers, domestic violence shelters and other sexualized violence education, prevention and remediation programs. He says, "This march gives men the opportunity to publicly demonstrate their courage and commitment to preventing sexualized violence. It gives the community the opportunity to celebrate men's commitment, and it encourages the community to talk about these very important concerns."
For more information on the April 26 "Walk a Mile in Her Shoes," contact Ms. Crusan at Lindsey.Crusan(at)sphp(dot)com.
For more information about the "Walk a Mile in Her Shoes" initiative, visit:
http://www.walkamileinhershoes.org/.
About the Sexual Assault and Crime Victims Assistance Program:
The Sexual Assault and Crime Victims Assistance Program for Rensselaer County is committed to reducing the trauma of sexual assault, crime, and violence, as well as providing community education for its prevention. It is dedicated to creating a supportive, caring environment for victims/ survivors and their families to enhance the healing process.
In existence since 1979, The Sexual Assault and Crime Victims Assistance Program is the only agency in the county providing comprehensive, specialized services to victims of sexual violence, victims of stalking, older adults, homicide survivors, as well as other victims of crime, their family members and friends, or significant others. A core message: "What happened to you or your loved one was not your/their fault, and you do not have to go through it alone."
Services are provided at the following locations: Samaritan Hospital; Troy Police Office; Rensselaer County Court House Legal Advocacy Office; Hudson Valley Community College Student Health Office; Rensselaer County Probation Department; Hoosick Falls Services Building. Sexual Assault 24-hour hotline: (518) 271-3257.
For more information, visit: https://www.nehealth.com/Medical_Care/SAM/Sexual_Assault_Center/.
About Topical Biomedics
20 years in business and a Certified B Corporation, Topical BioMedics is a research and development leader in topical patented natural biomedicines for pain relief. The company's flagship product, Topricin® Pain Relief and Healing Cream, was introduced in 1994 and is now a leading natural therapeutic brand. A combination biomedicine formula, Topricin has been awarded a patent for the treatment of pain associated with fibromyalgia and neuropathy, was listed among the Top 100 Green Products of 2012 by Healthy Holistic Living.
The Topricin family of natural healing products also includes Topricin Foot Therapy Cream, specially formulated to treat painful foot and ankle issues and conditions, and Topricin for Children, which received the Parent Tested Parent Approved Seal of Approval (with 5% of sales donated to pediatric cancer foundation). Made in the U.S.A., all Topricin products are federally-regulated over-the-counter medicines with no known side effects, no parabens, petroleum, or other harsh chemicals, no grease,no odor, and no hot/cold sensations.
Topricin is available in independent pharmacies, natural food and co-op stores nationwide, including Whole Foods, Sprouts, Pharmaca, The Vitamin Shoppe, Fred Meyer, Wegmans, CVS (Foot Care Section), Walgreens (Diabetic Section), and other fine retailers, as well as directly from the company.
For more information, visit http://www.topricin.com.