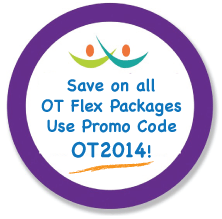 HomeCEUConnection.com has been a great source of valuable knowledge, in a very convenient format. - Erin Munafo, Ohio OT
(PRWEB) April 16, 2014
AOTA approved continuing education provider HomeCEUConnection.com is offering significant savings on Occupational Therapy flex packages in recognition of Occupational Therapy Month. The promotion can be taken advantage of until the end of April.
To help keep Occupational Therapists and Occupational Therapist Assistants build up important skillsets with the top notch tools and resources, HomeCEUConnection.com is offering up some of their most popular OT CE courses in four specially designed, flexible and affordable packages. These flex packages allow therapists to mix and match premium text and video based continuing education courses for a customized learning experience.
"HomeCEUConnection.com has been a great source of valuable knowledge, in a very convenient format." - Erin Munafo, Ohio OT
In addition to the savings over individually priced courses that these flex packages offer, HomeCEUConnection.com is discounting these packages even further in honor of Occupational Therapy Month. Occupational Therapy professionals are encouraged to use the promo code "OT2014" when shopping for their package for an even better deal.
HomeCEUConnection.com is proud to be a recognized AOTA continuing education provider in good standing and is deeply committed to remaining the destination for Occupational Therapy professionals seeking premiere content and flexibility.
"I have been with Home CEU Connections for a few years now and I anticipate a long term relationship!"
Neva Maree, Florida OTA
About HomeCEUConnection.com
HomeCEUConnection.com is a leader in providing quality online continuing education courses for Occupational Therapists, Occupational Therapist Assistants, Speech-Language Pathologists, Physical Therapists, Physical Therapist Assistants, Athletic Trainers, Massage Therapists, and Certified Strength and Conditioning Specialists. We offer convenient, affordable and user-friendly courses that can be found in our growing course catalog.