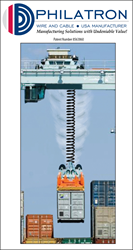 Santa Fe Springs, CA (PRWEB) April 13, 2014
Philatron's new Tornado Cable™ is specially designed to provide ultimate reliability in high stress operations involving high speed, long vertical lengths, and strong winds typical of port conditions.
Unlike typical spreader cables which are designed with lead beads for added weight to resist strong winds, the Tornado Cable™ is designed in a giant patented retractile-coil.
This improved design eliminates the need for a basket spreader that causes spreader cable abrasion wear and tear caused by repetitive winding in and out of the metallic spreader basket.
The Tornado Cable™ provides ultimate reliability by eliminating expensive downtime caused by basket winding mishaps and expensive cable replacement due to cable wear and tear and corkscrewing. http://www.philatron.com/wp-content/uploads/2014/04/PhilatronNewTornado-Cable.pdf
Manufacturing Solutions with Undeniable Value
In today's world of global activities, application of cables in any climate in the world is critical to the integrity of your electrical systems. If the cable fails your system fails. The cable you install to power your systems must be a cable of withstanding environmental abuses of abrasion, heat, cold, petroleum chemicals, and harsh handling. Philatron cables are designed to meet the challenges of your system anywhere in the world.
Philatron cables value-to-cost ratio is very high and is intended for users who require maximum dependability with minimum replacement and down-time expenses.
About Philatron Wire and Cable:
A leader in technology, creativity and innovation, Philatron Wire and Cable is a major wire and cable provider in the USA, manufacturing a full range of wire and cable products. As an industry leader in manufacturing, design, development, technology, and marketing, with over 40 years of service Philatron values core competencies offering copper drawing, roping, cabling, extrusion, injection molding, coiling and assembly. Philatron supplies power to a multitude of industries including the OEM market, automotive, mining, heavy-duty trucking, aerospace, construction, military, custom cable, and cities around the world.
Made in America
Manufacturing Solutions with Undeniable Value
Visit us at: http://www.philatron.com.
For additional information contact:
Tammy Ashton
Assistant Sales and Marketing Manager
(800) 967.9147
tashton(at)philatron(dot)com