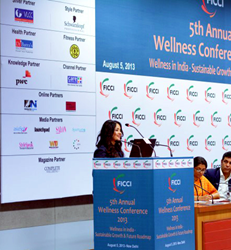 Global consumers are motivated to travel to India for spiritual, medical, and wellness purposes, and all of this adds up to a commitment to their wellbeing.
Mumbai, India (PRWEB) April 14, 2014
The health and wellness industry in India has grown considerably the last few years, and the Federation of Indian Chambers of Commerce and Industry will be hosting its first annual India International Wellness Expo May 15 through 17 to showcase successful businesses as well as business opportunities available in the industries of beauty services, cosmetic products, fitness, nutrition, rejuvenation, and alternate therapy. The event will be held at the Bombay Exhibition Center in Goregaon, Mumbai, India. For more information about the FICCI Wellness Conference, visit http://www.WellnessIndiaShow.com.
The expo, which will include several government contacts, represents the ever increasing importance of the health and wellness industry to the Indian government. Wellness services are predicted to generate more than three million Indian jobs by 2015. The demand for wellness products has created an opportunity not only for the growth of existing wellness businesses but also for the entry of various new businesses – in India and internationally – including those in the wellness tourism category. Considering the changing habits and lifestyles of Indian consumers, the industry has only seen the tip of the iceberg in terms of growth of wellness products and services in India.
With growth projected in this sector, there are many opportunities for existing companies as well as new companies looking to diversify into high-growth businesses. In fact, the Indian government has embarked on a global campaign to raise awareness of the traditional healing of Ayurveda and Yoga. The India International Wellness Expo will showcase these opportunities and encourage growth for these businesses during the three-day exhibition and conference featuring keynote speakers such as Carina Chatlani. Visit Carina Chatlani on Facebook.
Chatlani, who will be speaking about Positioning Indian Wellness in the Global Market and presenting the Global Wellness Model, is the founder and CEO of Body Bistro, an international wellness spa brand that is Ayurvedic, vegan, and holistic. Visit Body Bistro on Facebook.
Chatlani is a popular speaker on the wellness and lifestyle industry and will be focusing on the international aspect of the Indian health and wellness industry. "Global consumers are motivated to travel to India for spiritual, medical, and wellness purposes, and all of this adds up to a commitment to their wellbeing," said Chatlani. "This aspiration to live an 'expansive elevated existence' is front and center in people's mindset. Their search has galvanized the seed of a Global Wellness Model to be activated."
About Carina Chatlani
For more information, visit http://www.CarinaChatlani.com and her online blog. Chatlani is an innovator of blending Eastern holistic philosophy and Western science. Carina has designed unique spa menus, exclusive treatment plans, and wellness seminars and is a published author of numerous articles. She is currently completing a book "Mindset: Driving Shifts in Consumer Purchasing Patterns." Chatlani has made it her mission to educating consumers on the benefits of holistic beauty, including Ayurveda, equitable wellness, and indigenous knowledge. Visit Carina on Twitter.