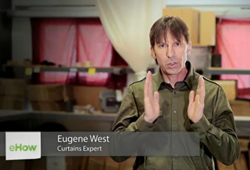 "See the World Through [Their] Windows."
Lakeville, PA (PRWEB) April 15, 2014
Swags Galore is excited to announce that its co- founder and owner, Eugene West, has been featured by eHow.com to create several video tutorials that offer his expert advice on curtain selection, layering, and installation. The abbreviated videos are approximately 60 to 90 seconds long, now available to viewers on eHow.com under the Curtains & Window Décor category of the website. eHow.com is an online learning forum that provides its users with articles and video clips that give valuable insight from experts in a wide range of fields, including home remodeling and decorating.
Swags Galore, a leading web-based provider of curtains and valances, has established itself at the forefront of the window décor industry with its fashionable and affordable assortment of products. Its co- founders and owners, Eugene and Melinda West, aspire to offer customers the largest selection of curtains and rods by focusing solely on the niche window treatment market, channeling their passion for a long-time hobby into the successful curtain business. Melinda and Eugene welcome people to their website to "See the World Through [Their] Windows."
Now, through the short instructional videos accessible on eHow.com's website, people are able to gain an expert's advice on selecting the right curtains and learn the best techniques for hanging and assembling window treatments at home. eHow.com differentiates itself from other online learning forums by selectively finding experts in the field of topic to host its educational resources, accrediting Eugene West as Swag Galore's highly-acclaimed "Curtain Guru" of window treatments.
People can find the instructional videos on eHow.com by searching for "Curtains & Window Décor" under "Home Design & Décor," which can be found in the "Home & Garden" section of the website. A few of the lessons that viewers can learn from Eugene's videos include "Picking an Ideal Curtain Width," "How to Hang a Curtain Rod to Make a Window Look Larger," and "How to Hang a Balloon Curtain," among other advice offered in the ten featured videos.
The owners of Swags Galore have dedicated their time and energy to the curtain-based ecommerce site, putting their heart and soul into building upon the foundation they created with their hard-earned success. With the new video tutorials featured on eHow.com, the couple is now able to share their passion and expertise with the world.
For additional information on Swags Galore or its window décor products, please visit: SwagsGalore.com. To find more information on eHow.com, go to: eHow.com. To view eHow's video tutorials featuring Swag Galore's Eugene West, go to: http://www.ehow.com/videos-on_12334891_curtains-window-decor.html.
About Swags Galore Inc.:
Swags Galore was founded by Melinda and Eugene West of Shirley, New York in 1999. It was Melinda's vision to sell affordable window treatments online and in 1999 she designed and launched their first website, originally selling scarf panels she made from home. In 2000, the business outgrew Melinda and Eugene's home and they expanded into a warehouse in Yaphank, New York, quickly out growing that. In 2005, Melinda and Eugene made the decision to move to Lakeville, Pennsylvania where they built their corporate headquarters and distribution center. Today, the company is the leader in their industry, selling low-cost window treatments to retail consumers. To learn more about Swags Galore and their products, visit http://www.swagsgalore.com.