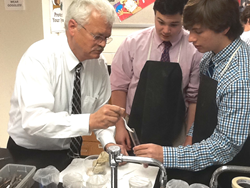 "It's weird using maggots, but how the science works is really interesting. It's fun!" Nick Morton
Baltimore, MD (PRWEB) April 15, 2014
It's typical for students in Jim Haluck's honors forensics course at The Boys' Latin School of Maryland, to learn about a variety of materials throughout the year. This week, however, students were talking quite a bit about the new lab entitled Sarcophaga bullata, which deals with meat and maggots in an attempt to determine if drugs were used by a hypothetical deceased human body. Mr. Haluck explained "The boys in honors forensic sciences are loading their test tubes with drug laced ground beef and larvae of Sarcophaga bullata flies. These flies lay eggs on deceased humans and can be used to determine time of death and any drug use by the deceased individual. After about three days of feeding on the drug laced meat, the boys will extract the maggots and grind them to prepare their body fluids for thin layered chromatography analysis. The samples taken from maggots will be compared to reference drug Rf values for identification. Honors forensic science class examines the scientific techniques used by criminal investigators in the laboratory to solve crimes. Boys enrolled spend 90% of their class time in the laboratory applying scientific concepts and theories to crime scene evidence."
The photograph shows Mr. Haluck dropping maggots into a meat filled test tube held by Matt Marshall, while lab partner Nick Morton looks on. Matt and Nick are both juniors in high school.
Earlier in the year, Mr. Haluck's midterm exam was entitled "Who killed Mr. Mathematics?" Students in the class were presented with a crime scene, and using the techniques and skills that they have learned throughout the first semester, they then have to figure out who was the killer of the imaginary Mr. Mathematics. Students tested for poisoning, analyzed shoe prints, studied fibers left at the crime scene, conducted fingerprint analysis and did a blood analysis. Using what they found in these hands on tests, they then had to determine which of the "suspects" presented to them was guilty of the crime.
These exercises have several important educational benefits. First, it provides students with an exposure to what working in a crime lab is like. In addition, it also engages the boys and gets them excited about showing and proving what they've learned so far in the course. School leaders congratulate Mr. Haluck for designing these engaging exercises!
Boys' Latin is an independent, college-preparatory school with grades K-12 and Maryland's oldest, nonsectarian school for boys. BL students learn the core values of courage, integrity and compassion as embodied in our motto--Esse Quam Videri ("To be, rather than to seem"). By understanding how boys learn best, our talented faculty fosters enduring personal relationships and empowers each student to strive for academic and personal excellence. Boys' Latin is a small school of 600 students with classes of about ten students. Each individual is uniquely known and cherished.