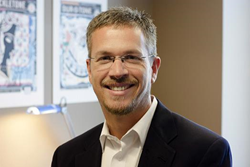 "Brad is an inspirational leader who we see as an important component to our future success as a leading international architectural firm. His creativity, energy and dedication are contagious for everyone in the company." - Steve Ruth - President/CEO
Long Beach, CA (PRWEB) April 15, 2014
P+R is pleased to announce that Brad Williams has been promoted to Principal in the firm. Brad has an innovative leader over the years with a tremendous drive to succeed, a passion for creative approaches to client and staff relationships, and a commitment to make P+R a great company to our personnel, our clients, and the communities we serve.
Most recently he has been the driver for implementation of a new accounting system to stabilize, grow, and maintain financial integrity of key metrics necessary for the success of every project. In addition to his responsibilities as the COO, Brad has been an active leader in the Board of Directors, Operations Directors, and as part of the Principals & Officers meetings. Per Steve Ruth, President/CEO, "Brad is an inspirational leader who we see as an important component to our future success as a leading international architectural firm. His creativity, energy and dedication are contagious for everyone in the company."
Since joining the firm in 1999, he has focused on urban infill revitalization projects and high-density retail developments such as the award-winning Midtown Crossing. He has led teams on a variety of successful façade revitalization programs for both public and private entities, as well as institutional projects such as the USC Caruso Catholic Center and Our Savior Parish. He acquired his bachelor of architecture degree from Woodbury University and is a licensed architect in California.
P+R Architects
P+R Architects (http://www.prarchitects.com) is an international architectural firm dedicated to positively impacting communities through the built environment. P+R, founded over 30 years ago, has developed specialized expertise in retail, entertainment, hospitality, office and mixed-use developments; and is comprised of a diverse team of architects, planners, technical specialists, and other creative thinkers who share a commitment to community development and betterment.