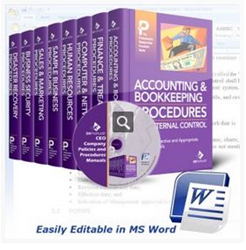 Developing business department policies and procedures has never been easier.
Saint Louis, Missouri (PRWEB) April 14, 2014
Organizations requiring prewritten Microsoft word templates can now instantly download a comprehensive set of business policies and procedures from the world leader in policies and procedures development at bizmanualz.com.
The Microsoft word templates have been expertly researched and authored by subject matter experts in their field and are now ready for instant download. Any CEO, CFO, Executive, entrepreneur, or manager will save time, save money, and save frustration by easily downloading prewritten business Policies and Procedures Templates from bizmanualz.com, ready for any department.
"Many of our customers have said that 'Developing business department policies and procedures has never been easier," explains Chris Anderson, Bizmanualz Managing Director.
Now you can quickly implement standard operating procedures needed for core business processes and enjoy considerable savings using Microsoft word templates.
The nine-manual CEO bundle covers your most important policies and procedures needs.
1. Accounting Policy and Procedure Manual
2. Financial Policies and Procedures Manual
3. IT Policy Procedure Manual
4. Human Resources Policies Procedures Manual
5. Sales and Marketing Policy and Procedures Manual
6. Quality ISO 9001 Procedures Manual
7. Security Planning and Procedures Manual
8. Disaster Recovery Planning Procedure Manual
9. Company Policies and Procedure Manual Sampler
With hundreds of well developed policies and procedures templates – along with hundreds of supporting forms, checklist and documents – the comprehensive CEO Company Policies and Procedures Manual Microsoft word templates speeds any manager in implementing industry best practices in a timely, cost-effective manner. Use the expert documentation from bizmanualz.com to: Outperform Your Competition.
Developing your own Policies and Procedures Manual can be time consuming. That's why it's important to obtain the best Policies and Procedures documentation available. Instantly download the Company Policies and Procedures Manual Templates, designed for any manager seeking best practices to operating a business.
Bizmanualz has been at the forefront of delivering lean ISO Quality Management Systems and business process improvement services to help business owners achieve the growth and expansion they foresee. Bizmanualz policies and procedures are available by calling 800-466-9953 (outside the U.S. call 314-863-5079); faxing 314-863-6571; e-mailing sales(at)Bizmanualz(dot)com; or logging on to http://www.Bizmanualz.com.