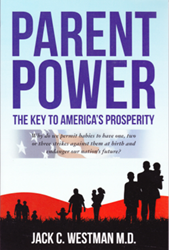 Literacy begins at home
Madison, Wisconsin (PRWEB) April 15, 2014
Too Small to Fail is a joint effort of the nonprofit Next Generation and the Bill, Hillary & Chelsea Clinton Foundation aimed at closing the educatonal gap across the country by encouraging parents to talk to their babies from birth. This initiative highlights the importance of Dr. Jack Westman's new book: Parent Power: The Key to America;s Prosperity.
Amid a political push for government-funded preschool for 4-year-olds, a growing number of experts fear that such programs actually start too late for the children most at risk. Recent research shows that brain development is stimulated by continuous interaction with parents and caregivers from birth, and that even before age 4 the children of the wealthy know more words than do those of the poor. To reach those children, educators say they need to focus their efforts on the home. "In the same way that we say you should feed your child and brush their teeth, you should be stimulating their brain by talking, singing, and reading to them," said Ann O'Leary, the director of Too Small to Fail.
Popular sentiment clings to the illusion that the United States treasures children and supports parents especially by adulating parents who spend money so their children can have every material advantage. In reality, a strong undercurrent denigrates parenthood. This undercurrent is evident in social policies, media advertising, the internet, and societal norms that make the already challenging job of parenthood more difficult.
The public can no longer afford to ignore the glaring reality: dysfunctional parents cause social problems and competent parents prevent them. What children really need in order to flourish is not the same as being happy. They need to become literate, self-disciplined, productive, moral members of society. Finally, public policies and economic priorities must support competent adults so they can fulfill the vital role of parenthood.
The belief that little can be done to strengthen families must be confronted. This belief hands responsibility for childrearing over to institutions. Paid childcare, schools, and professionals are expected to fill in when parents falter and fail. Parents today are not held as accountable for their actions with their children as they are for their interactions with people outside their families. At the same time, children have become commodities in the marketplace.
Instead, by investing in strengthening families and in its young citizens-future scientists, doctors, states persons, industrialists, farmers, inventors, educators, clergy, artists, service members, and parents-the United States invests in its ability to successfully compete in and influence the global environment. The first priority, then, should be developing a sustainable infrastructure of family resources in the UNited States so that parents can effectively nurture their children as described in Parent Power: The Key to America's Prosperity. Literacy begins at home.