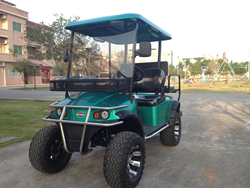 Greenville, SC (PRWEB) April 11, 2014
STAR EV (brand of JH Global Services, Inc.) is pleased to announce the introduction of the STAR EV Diablo on/off road lifted all electric. The Diablo is built on an aluminum chassis, with a powerful AC motor rated at 6 continuous and 22 Peak horsepower. The Diablo also has a walk away braking system, full independent front suspension, four wheel disc brakes and a 16:1 rear end gear to give the Diablo vehicle best-in-class help climbing agility. The Diablo is fully loaded with brushed stainless side nerf bars and front brush guard, speedometer, deluxe seating, color matched roof, 12 volt outlet, clay basket, LED tail lights and more. It comes in 2, 4 or 6 passenger versions and can also be made with a utility box on the back. You can go anywhere in the Diablo, because in addition to handling off road with ease, the Diablo can be made street legal to allow travel on roads with posted speeds of 35 MPH or less.
The STAR EV Diablo can be purchased from any of STAR EV's 200+ dealers. You can use the dealer locator and check out the Diablo brochure here!
Joe Wallington
Vice President, Sales & Marketing