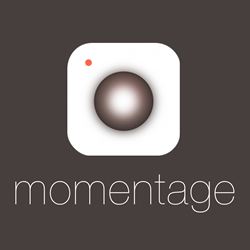 Los Angeles, CA (PRWEB) April 14, 2014
Momentage, the fast-growing moment creation and sharing app, will host a nationwide university scavenger hunt to encourage students to engage and interact with their peers, surroundings and staff as they use Momentage to capture the best moments, people and events that portray campus life. The contest will run April 14th to April 30th and is open to all students. Judges will choose one grand prize winner to receive an iPad 4. All participants will be entered in a drawing for a $50 Amazon gift card, only one will win.
To participate in the scavenger hunt, entrants must follow all contest rules.
Students must submit three moments. One with a minimum of two photos, another with at least two videos and the final comprised of two SoundImages to make three moments.
The Photo Series/Moment can include:
1. Picture of the Dean or professor eating or drinking.
2. Picture of a recent university catalog.
3. Picture of an exterior shot of a campus dorm or Fraternity/Sorority house.
4. Picture of the campus bell tower.
The Video Series/Moment can include:
1. Video of the campus
2. Video of a sporting event with mascot
3. Video of your mascot saying Momentage
4. Video of the library
The SoundImage Series/Momentage can include:
1. SoundImage at a sporting event
2. SoundImage of a classroom with professor
3. SoundImage of food court/commons area
4. SoundImage of bell tower
Entrants may submit completed moments by posting to the Momentage app with the hashtag #momentagehunt and then sharing on Facebook and Twitter, also with the hashtag #momentagehunt. Once all three moments are posted, students must send an email to feedback (at) momentage (dot) com with the following information their full name, name of the college they are attending, dates the moments were posted on Momentage, and an email address, phone number and shipping address.
The Momentage team will judge each entry based on style and most moments submitted for each series. All pictures and videos must be original moments with no outside editing and cannot have been shot or recorded before April 14th.
Winners will be announced on May 5. For further information, please feel free to reach out to Contact(at)Momentage(dot)com.
ABOUT MOMENTAGE
Momentage is a popular and unique iPhone app that allows users to combine photos, videos and SoundImages™ into a single post to create a vivid storytelling 'moment.' Momentage offers users a flexible stage to tell stories, share experiences, teach interactively and communicate visually. Users of Momentage use intuitive tools to edit, add to and rearrange media using their own unique style and creativity. The Momentage community can share these images publicly, with a customized group, or take advantage of benchmark-setting levels of privacy. Momentage also offers users a supportive environment that is free of the constraints, clutter and compromises of other photo sharing and social apps. Momentage was released in fall 2013 to iOS users. Momentage is available for download at http://www.momentage.com and at the iTunes store.