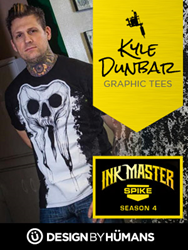 Chico, CA (PRWEB) April 15, 2014
Are you a fan of ink? So is Design By Humans (DBH). That's why DBH has teamed up with Ink Master contestant and tattoo artist Kyle Dunbar to promote some amazing graphic tees. When Season 4 of Ink Master was announced on Spike TV, contestant Kyle Dunbar jumped at the chance to promote mind-blowing graphic tees on the show. Dunbar quickly partnered with Design By Humans, and was supplied with a bunch of high-quality graphic tees to spark his creativity. Dunbar picked some epic DBH tees that showcased a wide variety of artistic, tattoo-inspired designs from illustrative tee "Battlesnake" to bold tee "Dead Tooth." His fan-awaited fight with Chris Nunez is set to air tonight, April 15th, 2014 - will Dunbar be kicked off, or will they settle their differences?
Fans can check the Design By Humans forum post here to see the latest Ink Master episodes and all of Kyle Dunbar's graphic tees - only available at designbyhumans.com. Fans can also follow Kyle on Twitter (at) inkbykyledunbar.
About Design By Humans
Embedded in the culture of Design By Humans is a passion for brilliantly designed tees, detailed illustration, and a strong appreciation for all things creative. Free of restraints and inspired by creativity, we empower artists by giving them a voice and a platform to amplify their art to the world. Design By Humans was started in 2007 with the simple vision of bringing artists together from around the world. Through our DBH Collective initiative, we've emboldened and inspired artists by giving them a foundation to produce wearable art that tells a story, strengthens humanity and inspires life through creativity and design through a personal online storefront.
Design By Humans is committed to making the highest quality apparel in the marketplace, which is why every garment that we craft is hand selected and printed in California using environmentally friendly phthalate free or water-based inks whenever possible. Design By Humans only uses t-shirt blanks that are guaranteed to be sweatshop and child labor free. Phone Cases and Art Prints have been recently added to the already outstanding list of products offered by DBH. Visit us at designbyhumans.com to see the latest designs.
###
If you'd like more information about this topic, or would like to promote DBH tees, please call +855 333 9836 x 302 or email press(at)designbyhumans(dot)com.