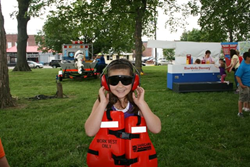 (PRWEB) April 22, 2014
The Depot Community Room will host their fourth annual River Heritage Day on Saturday, May 10, 2014 at the Henderson riverfront.
The event features two parts: an afternoon activity day for children and an evening outdoor meal of fish and smoked jambalaya.
Beginning at 9 a.m., a free Kids Fishing Rodeo will take place at the riverfront. Children can enter in two divisions: 7 and under and ages 8-12. Sign in begins at 8 a.m., and fishing takes place from 9-11 a.m. Awards will be announced at 11 a.m with prizes for all participants. All entrants will be entered to win a $1,000 scholarship.
From 10 a.m-2 p.m., The Depot Community Room will present activities in Audubon Mill Park, including a wildlife exhibit from Mesker Park Zoo, games, crafts, and storytelling.
From 5-8 p.m., a dinner will be served at On Deck of fish, smoked chicken jambalaya, several side dishes, and iced tea. A cash bar will be available. Tickets for the dinner are $20 for all-you-can-eat and can be purchased at The Depot Community Room, 101 N. Water Street, Henderson, KY. Proceeds from the dinner will benefit Riverview School and the River Heritage Day event.
River Heritage Day will be held concurrently with the Cabela's King Kat Catfishing Tournament, which attracts fishermen to the Ohio River for a day of competitive fishing.
For more information, call The Henderson County Tourist Commission at 1-800-648-3128 or visit http://www.hendersonky.org.