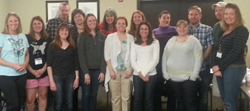 "Because we are in different markets, we aren't competing directly with each other, so there is a lot of benefit in sharing information." Joette White, Park Cities Pet Sitter
Dallas, TX (PRWEB) April 11, 2014
Professional pet sitting has only recently gained serious consideration as a viable career choice for adults that love pets. The emergence of pet sitting businesses today is partly due to the significant evolution that has occurred in the world of pet ownership over the last fifty years. Before planes, trains, and automobiles were mainstays of American culture, family or neighbors were the most likely people to care for someone's pets when a pet owner was out of town. Over time and due to the easy access of transportation, American society has become more transient, with people moving from place to place or city to city regularly. Now it is much more common for people to not know their neighbors, and it is equally as common for someone to not have family members in the same town. Simultaneously, as people wait until later in life to marry and have children, pets have grown in importance to many Americans, often becoming true "family members." It is all of these cultural shifts that have contributed to the emergence of pet sitting businesses all over the United States, caring for the pets whose owners who lead busy daily lives and must leave their pets behind when they go out of town.
The majority of pet sitting businesses around the country are very small, have one or two employees, and do less than $100,000 annually in revenue. However, in the past decade, a number of pet sitting companies throughout the country have been able to grow their businesses much larger than these more typical "one man" pet sitting companies. Many of them are eager to work with their large pet sitting company peers to continue to professionalize the pet sitting industry.
It is for this reason that Dallas-based Park Cities Pet Sitter hosted 14 of the largest pet sitting company owners from around the country for a 3-day conference from March 28th – March 30th, 2014. The pet sitting business owners attending the conference started this informal group that they call "Pet Care Professionals" because their individual businesses had grown to the point that the larger national pet sitting organizations could not cater to the different business issues that a larger pet sitting business faces. The members of the Pet Care Professionals group have revenues ranging from $300,000 to $1.5 million, and have anywhere between 8 to 100 employees/independent contractors.
Kristin Skelton from Floofins & Company, A Kenneling Alternative in Elmhurst, IL is a member of the Pet Care Professionals group, and explains the formation of their group. "There are outstanding national organizations that are adept at helping members start their pet sitting businesses, helping them develop standard policies and procedures, encouraging them to develop business plans, and counseling them on basic business principles. Once you are fortunate enough to work through the issues of being a start-up business and begin to have numerous employees and consistent business growth, a pet sitting business owner encounters an entirely new set of business challenges that require a different type of advisement and support. That is why we formed the Pet Care Professionals group; to address the different needs that a larger pet sitting company faces."
Kim Thomas from West Hartford Pet Sitters in Hartford, West Hartford, CT, described some of the business challenges that the Pet Care Professionals members discussed when they met last week. "We talked a lot about the importance of using our reporting capabilities to make business decisions, tax and insurance issues, customer service best practices, and even how to value our businesses for both retirement planning or for business sale purposes."
Joette White, President of Park Cities Pet Sitter, was excited to host the March conference in Dallas, and was eager to network with her pet sitting industry peers. "I always learn so much when we all get together. Because we are in different markets, we aren't competing directly with each other, so there is a lot of benefit in sharing information on what has worked and what hasn't worked as we have grown our businesses. It is priceless to be able to contact one of the other business owners about an issue that I might be having, and not have to explain anything about my industry or why we do things a certain way. They already know and understand what it's like to run a pet sitting company of the size mine is on a day-to-day basis."
The 3-day March conference was invitation only, and included: Park Cities Pet Sitter, Inc. in Dallas, TX, Buckhead Pet Pals in Atlanta, GA, Deluxe Pet & Home Sitters in Lincoln, NE, Wisconsin Pet Care LLC in Racine, WI, Floofins & Company, A Kenneling Alternative in Elmhurst, IL, West Hartford Pet Sitters in Hartford, CT, Sit n' Stay Pet Services in Hamburg, NY, Pampered Pet Sitting in Smyrna, GA, Bailey's Bed and Bath in Lincoln, NE, Running The Pack, Inc. in Framingham, MA, Rufus and Delilah in Sherman Oaks, CA, A Pause for Paws, Inc. in Lincoln, NE, Fluffs of Luv, LLC in Charlotte, NC, DoggyWalker.com in Alexandria, VA, and Home Sweet Home Pet Care, Windsor, CT.
Meg Raimo from Home Sweet Home Pet Care in Windsor, CT, said after the weekend, "We have come a long way as an industry, particularly in the last decade, to where we are finally being perceived as a serious, legitimate, and professional business category. I consider it a privilege to be able to network with the most successful pet sitting companies from around the country that have been able to really grow their business, and to be a part of defining the future of the industry."
Park Cities Pet Sitter, Inc. has served the Dallas area 7 days a week, 365 days a year since 1992. Pet sitting, daily dog walks, pet taxis, overnight sitting, pet supply shopping, litter box cleaning and dog training are all part of the services PCPSI offers. Park Cities Pet Sitter is bonded and insured, and all sitters are employees--not independent contractors. A manager is on-call 24 hours a day to handle any emergencies. Additional information about Park Cities Pet Sitter can be found on their website at http://www.pcpsi.com.