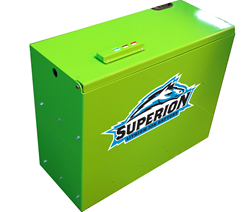 Rochester, NY (PRWEB) April 11, 2014
Applied Energy Solutions (AES), on the forefront of new technologies in the industrial battery charger industry, is excited to share their product the Superion™ , a lithium-ion battery and charger pack launched last year, at the DC Power Group Annual Meeting in April 15-18 in Nashville, Tennessee. The company was the first to harness lithium-ion for use in pallet jacks and other motive transportation including forklifts. The more energy-dense power provide by the Superion™ saves companies 28% more energy from the wall to the battery pack, than its dated counterpart-lead acid battery systems. The American-made battery charging system increases the life of forklifts, pallet jacks and batteries because it can be specialized to retrofit specific material handling environments and applications, and uses a passive cooling system.
The company has been working with major retailers on beta testing the product, and has gathered information which has lead to the company's expertise in the area of lithium-ion products. Owner of Applied Energy Solutions, Vern Fleming says, "we anticipate this product to be ready for sale later this year." The innovation and advanced technology of this product has awarded the company two MHI Innovation Awards recently; one at the 2013 Promat Show and another at the 2014 Modex Show this past March.
April 15-18th in Nashville, Applied Energy Solutions will present at the DC Power Group Annual Meeting, a gathering of battery distributors, service providers and vendors from across the U.S. Fleming says, "this will be a great opportunity to share how the Superion™ Lithium-Ion Battery and Charger Pack saves companies more money on electricity, delivers a more powerful green source of energy and is maintenance-free unlike traditional lead acid batteries."
About DC Power Group (http://www.dcpowergroup.com)
The DC Power Group was founded by a group of businessmen who sell and service batteries and chargers for electric lift trucks, telecommunications, UPS, and switchgear/control applications. The goal of the group is to provide potential new products, ideas to better manage your business, and development of business friendships. DC Power Group holds an annual meeting where members meet to share business information. The DC Power Group Annual Meeting includes vendor presenters, a trade show to offer ideas and products to improve your business, and a general membership portion where we exchange ideas on common problems that all of our businesses face.
About Applied Energy Solutions
Applied Energy Solutions helps companies maximize efficiency utilizing its ground-breaking charging equipment and knowledge of applications and material handling environments. Applied Energy Solutions manufactures industrial battery chargers for forklifts, pallet jacks and other battery powered transportation equipment. AES makes all products in the USA from design, manufacturing and sub-assemblies to interconnect and final assembly. With a full product offering for every application, AES specializes in fitting the proper battery charger for the application need. Applied Energy Solutions manufactures products for high frequency charging, cold storage, rapid charging, opportunity charging, multiple-shift charging and lithium-ion charging.
For more information on the new website or complete lines of AES battery chargers, call 1.800.836.2132 or visit http://www.appliedenergysol.com/. Join the conversation on Twitter, Facebook, or Google + .