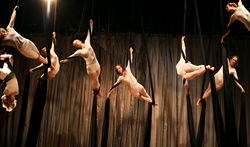 Award Winning Gated Georgia Lake Community
Atlanta, Georgia (PRWEB) April 12, 2014
Special moments linger a bit longer at Reynolds Plantation says Real Estate Scorecard, a company who scores master-planned communities in the Southeast to help buyers. Baby Boomers interested in owning Lake Oconee real estate are learning why this award-winning gated community is standing out compared to others and it's not just because of golf. The entire Lake Oconee area is a perfect place to stay during The Golden Years, but Baby Boomers who want to really take advantage of living life to the fullest are discovering the rich cultural life offered in the neighborhood.
Starting on April 15, 2014, the Reynolds Planation Linger Longer Series kicks off with a field trip to the State Botanical Garden of Georgia. Check out the list of upcoming Linger Longer Series events in April:
Tuesday, April 15, 2014 – The Spring Wildflowers of North Georgia lecture & discussion at the State Botanical Garden of Georgia is a great way to stop and smell the roses this month. A cocktail hour beginning at 5:00 p.m. and a historical discussion of Georgia's natural and cultural surroundings will kick off the new season in style.
Thursday, April 17, 2014 – Under Magnolia, begins at 5:00 p.m., will feature an appearance by the author, Frances Mayes. Residents and retirees interested in Reynolds Plantation homes for sale can attend a lecture, discussion, and meet the author during the book signing.
Tuesday, April 22, 2014 – Jim Crow's Last Gasp begins at 5:00 p.m. The Dean of the College of Environment and Design, Dan Nadenicek, will lead a lecture and discussion about The Story of Georgia's Equalization Schools in 1950-1970.
Wednesday, April 23, 2014 – The Shamrock and Peach begins at 5:00 p.m. at The Rock House. Irish Chef & Culinary Author Judith McLoughlin and Irish Landscape Photographer & Artist Gary McLaughlin will lead a lecture, tasting, & book signing for attendees interested in Irish culture and cuisine.
Thursday April, 24, 2014 – The Mary Sigalas Quartet begins at 6:30 p.m. at The Great Waters Clubhouse. Residents and members of the social clubs at Reynolds Plantation can enjoy a three-course meal and a jazz concert.
Tuesday, April 29 – Friday, May 1, 2014 – Mary Segar's Painting Workshop will show aspiring artists how to improve their technique. One-on-one demonstrations and instruction from the oil painter, Mary Segar, is sure to attract many creative Lake Oconee real estate property owners.
Located just over an hour east of Atlanta and nestled on picturesque 19,000 acre Lake Oconee, the private gated community of Reynolds Plantation is a breath of fresh air for retirees beginning their new lives. Originally the area was a hunting and fishing territory more than 100 years ago. Now, Reynolds Plantation has evolved into a friendly 2,300 home Lake Oconee neighborhood and an expected 4,000-5,500 homes will complete the community. With six 18-hole championship golf courses, five golf clubhouses, 38,000 sq. ft state-of-the-art fitness center, six swimming pools and active social clubs at Reynolds Plantation, it is no surprise that happiness lingers longer in this community.
On April 3, 2014, The Nationals golf course designed by Tom Fazio re-opened for play. Over the past nine months, the course has undergone an extensive program of upgrades, fixes, and replanting. All putting greens were converted from bent grass to Champion Dwarf Bermudagrass, and every green collar improved.
Happiness is key to living a long and healthy life, and Reynolds Plantation is on a mission to support this cause. The community launched the Linger Longer Living cultural lifestyle series to residents interested in broadening their horizons. While the social clubs at Reynolds Plantation schedule activities year round, this series features artistic exhibits, entertaining performances, educating opportunities which happen only once in a lifetime. Baby Boomers interested in investing in Lake Oconee real estate can learn a thing or two if they choose to live the good life at Reynolds Plantation.
The Linger Longer Living Series has even more events to enjoy in the next few months. Retirees living at Reynold's Plantation have a full schedule of social events this year, and they take advantage of every lingering moment.
To schedule a visit through their Discovery Package, call Reynolds Plantation direct at 706.467.1133.
About Real Estate Scorecard:
Real Estate Scorecard writes unbiased real estate reviews providing in-depth information about popular gated communities in Florida, Georgia, North Carolina, South Carolina and Tennessee, all in an effort to help people discover where to retire in the Southeast.
Website: http://realestatescorecard.com