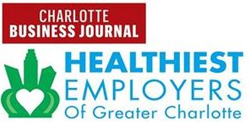 "We are very excited to participate and be ranked among the healthiest mid-sized employers in Charlotte for two years in a row," explained Linda Hendley of Medic's Human Resources. "Medic's Wellness team works very hard to continue to develop programs."
Charlotte, NC (PRWEB) April 15, 2014
Medic ranked #5 among mid-sized employers at the Charlotte Business Journal's "Healthiest Employers of Greater Charlotte" Awards on Friday, April 11th, 2014. The awards, in its fourth year, honors businesses in the Greater Charlotte area that are top performers in providing quality health and wellness programs for their employees.
While Medic provides EMS services to only Mecklenburg County, the agency's focus on employee wellness and benefits ranks them with national companies such as US Airways, Ingersoll Rand, and Accenture.
A complete listing of the "Healthiest Employers of Greater Charlotte" will appear in the April 18th issue of the Charlotte Business Journal.