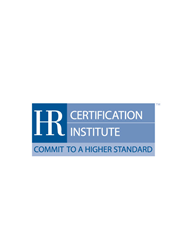 Alexandria, VA (PRWEB) April 14, 2014
The HR Certification Institute (the Institute), the internationally recognized certifying body for the HR profession, announced today that the regular registration period for testing for a Professional in Human Resources (PHR®), Senior Professional in Human Resources (SPHR®), Global Professional in Human Resources (GPHR®) and California Certification will close on Wednesday, April 30.
HR professionals interested in demonstrating their mastery of the HR Body of Knowledge through a combination of education, experience and performance are invited to apply for one of these exams. To determine which exam is the best fit for them, HR professionals should visit http://www.hrci.org/our-programs/our-hr-certifications.
Those who pass an exam and earn one of the Institute's HR certifications are considered by their colleagues and organizations across the globe as highly skilled experts who have proven competency in the field of human resources.
The spring testing window from May 1 through May 31, 2014, for the GPHR and California Certifications; and from May 1 through June 30, 2013, for the PHR and SPHR certifications. Fees for exams range from $400 to $525.
More than 130,000 HR professionals in 100 countries currently hold certification from the Institute and find that it increases their credibility in the marketplace, according to certificants.
"Certification has given me validation of my HR expertise and opened up opportunities to connect with other professionals," said John McGregor, PHR, GPHR.
"I realized that having my PHR credential was not enough to prove that I have the knowledge and experience to practice in California. I took the California certification exam, and it created opportunities for me. I was able to use my PHR-CA credential to prove that I am an expert and a successful California HR practitioner. As a result, I was offered a unique HR work opportunity with my current company," said Paola Alvarez, SPHR-CA.
About the HR Certification Institute
The HR Certification Institute (HRCI), established in 1976, is the internationally recognized, independent certifying organization for the Human Resources Profession. The HR Certification Institute is the global leader in developing rigorous exams to demonstrate mastery and real-world application of forward-thinking HR practices, policies and principles. Today, more than 130,000 HR professionals worldwide proudly maintain the HR Certification Institute's credentials as a mark of high professional distinction. The HR Certification Institute offers a comprehensive portfolio of advanced professional credentials for HR professionals worldwide.