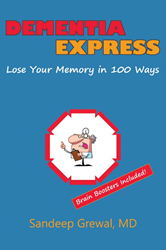 There are easy and routine ways of exercising one's brain.
Rock Hill, SC (PRWEB) April 14, 2014
"Everyone needs to realize how we are giving up brain activity by giving up everyday tasks," says Dr. Grewal, an Internal medicine physician and author of the book 'Dementia Express: Lose Your Memory in 100 Ways,' a rare satirical on brain health.
There are easy and routine ways of exercising one's brain. Here are some ways a person can boost their brain activity this spring:
Gardening - When someone works in a garden, the person has to analyze the condition of the soil and the plants. The person then has to formulate a plan for growing the plants and landscape. Gardening is also an exercise, which has been proven to reduce chances of memory loss. Analytical thinking keep the brain sharp and on its toes. So everyone should go and grow those plants in their backyard.
Swimming - Summer time is coming and a popular outdoor activity is a great way to keep up both the physical and mental fitness. Swimming is a great way to build up endurance and coordination. A fun and easy-to-do activity with family and even while on vacation.
Jogging - With the weather changing, this is a good time to have a change of scenery. The gym becomes boring with the same routine and the same old walls around a person. Try a new location for exercise, the brain takes in and registers the new surroundings creating the brain buzzing waves which exercises the brain. Jogging keeps the mind fresh and stamina up.
Biking - Another great outside activity is biking. Along with great exercise, a person has to process the information on how to ride the bike. Balancing is done by brain more than the muscles. Also when riding a bike on a course, the brain has to react to obstacles. This exposes the brain to exercises which doing Sudoku or crosswords won't.
Roller-blading - Learning to roller-blade is challenging. Tremendous amount of hand, foot, and eye coordination is needed to roller blade. It is a super-gym for the brain exercises.
Credentials: Dr. Sandeep Grewal is a physician practicing in small town of Rock Hill, South Carolina, who is the author of the book 'Dementia Express: Lose Your Memory in 100 Ways. The book is a health book satire, a new humorous approach to delivering health-related advice. Dr. Grewal is a diplomate of the American Board of Internal Medicine. He has been named one of Charlotte Business Journal's "Forty Under 40", received the magazine's 2012 "Innovation in Healthcare" award, and Vitals "Top 10 Doctor" 2013 award.
Availability: North and South Carolina, nationwide by arrangement and via telephone; often available last-minute.
Contact: Dr. Sandeep Grewal (803) 325 2236 or amy(at)acemedicalgroup(dot)org