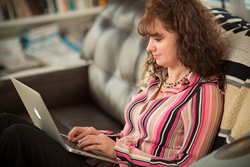 Allentown, PA (PRWEB) April 14, 2014
Today, more than 14 million students take at least one online class each year, and over 50 percent of America's four-year colleges and universities offer at least one degree program that can be completed entirely online. Even the US News & World Report now ranks over one thousand distance education programs in their fourth year of reporting – an increase from 860 programs the previous year. Online education is not just growing – it is becoming an essential part of the traditional Higher Education landscape.
The School of Adult and Graduate Education at Cedar Crest College is at the forefront of providing a high quality online education designed specifically with the adult student in mind.
"The rise of the Internet as a vehicle for expanding educational opportunities for working adults has been embraced by Cedar Crest College. Since 2007, the number of online courses has risen by 300 percent, and today we offer three degree programs and several certificates which can be completed online," said Cedar Crest President, Carmen Twillie Ambar. "In the next three years, the College expects to offer an additional master and bachelor degree programs through our School of Adult and Graduate Education with the goal of providing a small, liberal arts college experience with career-focused outcomes for every student, whether they live on campus or out of state."
In addition to quality and career focused online degrees, Cedar Crest College offers the following services to their students:

Admissions representatives that specialize in assisting adult students through every step of the admissions process
Experienced financial aid support staff that explain financial options, including veteran's benefits and tuition reimbursement plans
Year-round academic services tailored to student needs and interests
Online tutorial support from SmartThinking (http://www.smarthinking.com/services-and-subjects/subjects/ )
Technical support for courses and help with software
Instruction led by full-time faculty with years of expertise in their fields
Personal academic advisors and career-planning counselors to help students work toward finishing their degrees
Busy adults who are ready to finish a quality, accredited degree program can apply to Cedar Crest College by visiting http://online.cedarcrest.edu or by calling (855) 624-0871.
Located in Allentown, Pa., Cedar Crest College was selected as a "Top Regional College" and "Best Value" in U.S. News and World Report's Best Colleges rankings for 2012, 2013 and 2014. The liberal arts college is committed to the education of women leaders in an increasingly global society. Founded in 1867, Cedar Crest currently enrolls approximately 1,400 students—full-time, part-time and graduate—in more than 30 fields of study.