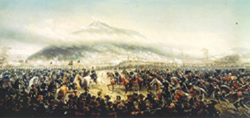 (PRWEB) April 13, 2014
Clyde Hedges is pleased to announce that his book, "The Boys of Chattanooga" is now available on Amazon and Kindle. This gripping piece of Civil War literature tells the story of the siege and battle for Chattanooga, Tennessee in 1863.
Most books on the Civil War rank Gettysburg and Vicksburg as the most important battles of the Civil War. Today, the Battle for Chattanooga is largely overlooked. Mr. Hedges rectifies this fault by telling the story from the viewpoints of three soldiers who survived the siege and made the charge up Missionary Ridge, as well as those of General Ulysses Grant who commanded the Union forces at Chattanooga, along with President Lincoln who promoted Grant to commander of all Union Armies west of the Appalachians. It is a story of military heroism, political genius and bravery, and military wisdom and valor. It is one the reader will not wish to put down.
The miraculous charge up Missionary Ridge in Chattanooga is Hedges' focal point. The charge was made by the Army of the Cumberland against larger Confederate forces. The men also made it up a steep incline and without orders from any superior officer, not even General Grant. In the book, Hedges gives his explanation as to why the men charged as they did.
Evelyn Sears of Book Pleasures writes that readers of historical fiction, especially the Civil War will find "The Boys of Chattanooga" a very enjoyable book, and that it gives perspective to the political as well strategic issues facing the Union throughout the war.
Lady Book Notes states that the book is a fine example of historical fiction and Civil War literature and Armchair Reviews states that the tale is well written and gripping from beginning to end.
About Clyde Hedges
Clyde is a retired teacher, US Army veteran and the author of two novels, one novella and three collections of short stories. He currently lives in Reno, Nevada with his wife. He is available for book signings, interviews and lectures.
Contact:
Clyde R. Hedges
clyderhedges(at)gmail(dot)com
775-825-1587
Create Space Publishing
http://www.createspace.com