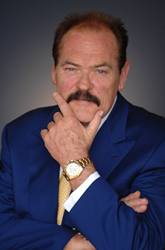 In a nutshell, the EMBB knows how to deliver more "bang-per-buck" for the customer and provider.
Scottsdale, Arizona (PRWEB) April 21, 2014
Dr. Mikel J. Harry announces an exciting opportunity to be personally trained and certified in the latest business improvement-training program, Executive Master Black Belt (EMBB), beginning June 2 in Scottsdale, Arizona. Leaders will learn to shorten the time to unlock untapped money within a company.
Six Sigma burst onto the scene in the last quarter of the twentieth century, led by Dr. Mikel J. Harry, co-creator and national bestselling author on the subject. "Six Sigma found its humble beginnings as a quality improvement method at Motorola in the mid-80's," said Dr. Harry. "Over the last 30 years, Six Sigma has grown and matured, and is now implemented in many industries worldwide" Today, about 82% of the Fortune 100 has implemented Six Sigma to improve their core business processes.
For most companies, Six Sigma is a business process methodology that strives for near perfection in operations regardless of industry. According to Indeed.com there were 18,374 Six Sigma job postings on March 9, 2014. March 9, 2014, Salaries.com published the median expected salary for a typical Six Sigma Black Belt in the United States as $96,074 excluding bonuses and benefits. The median cost savings per Six Sigma project is usually > 3X their annual salary which goes to the business bottom-line. The EMBB will potentially garner even higher compensation because the demand will be higher and the supply will be limited.
The Executive Master Black Belt (EMBB) training and certification program embodies the contemporary practice of merging the best-of-the-best business improvement practices, striving for an integrated continuous improvement program that better unites an organization's culture, structure and processes. Simply put, the relationship between business needs and operations needs are improved to unleash profit and value.
"To realize victory in business means that the leadership of an organization must continually focus on improving their Quality-of-Business (QOB), not focusing on the Business-of-Quality (BOQ). By focusing on business quality, an organization is better enabled to deliver higher quality products and services – while doing it at a lower cost and at a faster pace. Of course, this translates to improving the organization's Velocity-of-Value. (VOV). In simple terms, businesses make money quicker and customers are happier. This is the mission of an Executive Master Black Belt," says Dr. Harry.
The EMBB program provides existing Black Belts (of all types) with the "fast-track" human and technical skills that have proven essential to the value-centric design, implementation, governance and sustainability of a highly successful business improvement campaign. In a nutshell, the EMBB knows how to deliver more "bang-per-buck" for the customer and provider.
"Today's executives are faced with ever changing business needs and circumstances. The top challenges for business improvement leaders include enhancing the customer's experience, driving higher levels of employee engagement, as well as developing a workforce of world-class leaders," says Dr. Harry. "
"To tackle these imperatives, an enterprise must focus on the creation of value in every aspect of the business relationship. When this occurs, the net effect is not only more business, but better business – for the customer and provider." The EMBB program is designed to enable the next generation leaders to shorten the time to unlock money and business value using an optimal set of tools and methods.
The EMBB program is 3 weeks (15 days) in total duration. The program is comprised of two main elements: the live classroom component (5 days) and the laboratory experience (10 days).
For further information and registration details, please contact Don Drury at 1-214-937-9409
About Dr. Mikel J. Harry
Dr. Mikel J. Harry is widely recognized and cited in many publications as the principal architect of Six Sigma and the world's leading authority within his field. His book entitled Six Sigma: The Breakthrough Management Strategy Revolutionizing the World's Top Corporations has been on the best seller list of the Wall Street Journal, Business Week, and Amazon.com. In addition, Dr. Harry has been a consultant to many of the world's top CEOs, such as Jack Welch, former CEO and Chairman of General Electric Corporation. Dr. Harry has also been a featured guest on popular television programs, such as the premier NBC show Power Lunch, often quoted in newspapers like USA Today and interviewed by the media, such as The Economic Times. Dr. Harry has also received many distinguished awards in recognition of his contributions to industry and society.