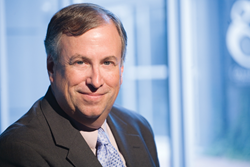 60% of big data early adopters already consider their ROI to be good.
Silver Spring, Maryland (PRWEB) April 14, 2014
AIIM President and CEO John Mancini is to appear as part of a stellar lineup of technology and business influencers at the forthcoming Bloomberg Enterprise Technology Summit on April 24.
John will be questioner-in-chief on the Big Data: The Trillion Dollar Opportunity panel, which features executives from organizations including GoodData and Snaplogic.
The summit convenes an audience of the biggest procurers of enterprise technology from the public and private sectors with a focus on financial services companies. The program will look at how corporations and governments are leveraging the cloud, addressing mobility, and handling data storage challenges.
Location: The Bowery Hotel, 335 Bowery, New York, NY 10003
Panel: Big Data: The Trillion Dollar Opportunity
Speakers:
Porter Bibb - Managing Partner, Corporate Finance, MediaTech Capital Partners LLC
Mark F. Bregman - Senior Vice President and Chief Technology Officer, Neustar
Mike Capone - Corporate Vice President of Product Development and Chief Information Officer, ADP
Guarav Dhillon - Chairman and CEO, Snaplogic
Roman Stanek - CEO and Founder, GoodData
Interviewed by: Cristina Alesci - Private Equity Reporter, Bloomberg News & Bloomberg Television
Questioner-In-Chief: John Mancini - President and CEO, Association for Information and Image Management (AIIM)
Session date/time: April 24, 2014. 4:30 – 5:00
"Big data and how to deploy it for competitive advantage is perhaps the biggest challenge enterprises are facing right now," said John Mancini, AIIM's president. "AIIM research has shown that 60 percent of big data early adopters already consider their ROI to be good, so the potential is clear. With such a heavyweight panel I am certain that we will have a great discussion and help outline the scale of the big data opportunity for delegates in attendance."
John Mancini's presence at the Bloomberg Enterprise Technology Summit comes just weeks after the AIIM 2014 conference (April 1-3). John was joined at AIIM 2014 by thinkers such as author Guy Kawasaki, journalist and commentator Dion Hinchcliffe and futurist Thornton May, debating the issue of information opportunity verses information chaos.
About AIIM
AIIM has been an advocate and supporter of information professionals for 70 years. The association's mission is to ensure that information professionals understand the current and future challenges of managing information assets in an era of social, mobile, cloud and big data. Founded in 1943, AIIM builds on a strong heritage of research and member service. Today, AIIM is a global, non-profit organization that provides independent research, education and certification programs to information professionals. AIIM represents the entire information management community, with programs and content for practitioners, technology suppliers, integrators and consultants.