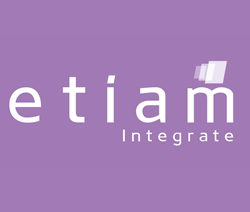 Allow Healthcare Administrators to Get the Most Out of Their Imaging Enterprise
Cambridge, MA (PRWEB) April 16, 2014
ETIAM Integrate Solution or EIS is a universal content integration system that allows physicians and healthcare professionals to store and incorporate patient images and multimedia examinations within the healthcare enterprise. "The solution," says George Hunt, VP of Sales, "is really a comprised suite of intricate software modules that we have developed over the years. Until now, we have not been able to pinpoint a full scale, single product that would allow healthcare administrators to get the most out of their imaging enterprise."
The solution is built upon ETIAM's years of experience in healthcare connectivity and delivers a comprehensive integration engine for multimedia data produced throughout the healthcare enterprise. Image intensive departments have relied on ETIAM Integrate to provide physicians, professionals, and educators control of images, video, sound, and documents to share with colleagues and for training and for use in seminars and presentations.
ETIAM Integrate provides the means to improve workflow and quality of care in the operating room and in other clinical areas. ETIAM Integrate allows data interchange between clinical system components, the "image-centric" PACS, hospital information systems, and the electronic medical record, and provides benefits such as:

Compliance with regulatory standards and healthcare best practices such as HIPAA mandates to secure and monitor access to patient information.
A technology used to image-enable EMRs and which supports open industry standards such as Digital Imaging and Communications in Medicine (DICOM), HL7 and Integrating the Health Enterprise (IHE).
A central repository for multimedia data from multiple sources and systems, accepting and cleansing all variations of digital format, and providing the EMR with normalized data forms they can view.
Messaging for ordering examinations, sending results, and updating patient demographic information.
A scalable system and strategy to accommodate all multimedia and image types and rapid growth in data size and in the number of users over time.
If you would like more information on the ETIAM Integrate software, feel free to view their brochure, which is located on their product page: http://www.etiam.com/etiam-integrate.
About ETIAM Corp
ETIAM Corp, a Massachusetts-based Medical Image Sharing Company, in business since 1997, seamlessly connects medical professionals and patients by creating a platform to share medical studies and images instantly and securely. Employing state-of-the-art security measures, along with laden rich features, we strive to become the leading connecting platform between professionals and patients by improving patient outcomes while protecting sensitive medical data. ETIAM Corp has over 500 clients worldwide with offices in North America & Europe.