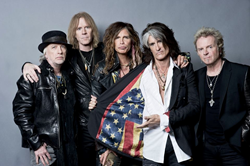 Denver, Colorado (PRWEB) April 12, 2014
Fans no longer have to dream on. It's now official. High-profile front man Steven Tyler and the Bad Boys from Boston will be back on the road again, jetting off on their 27th tour since their original Aerosmith, Get Your Wings and Toys in the Attic treks starting in 1973.
The boys, best known as `America's Greatest Rock and Roll Band', are bringing along another rock legend with former Guns N' Roses lead guitarist Slash as a special guest. The announcement for the Let Rock Rule tour hit the press earlier this week, boosting concert ticket sales across the board, said Marta Ault at BuyAnySeat.com.
The North American trek kicks off on July 10 in Long Island, New York, and currently stretches through mid-September with the wrap scheduled on September 12 in Sydney, Nova Scotia. Gigs in Boston, Los Angeles and San Francisco are also on the slate during the 20-date jaunt.
The North American dates will follow the band's overseas tour, which starts on Wednesday, May 14 in Istanbul, Turkey. That tour will hit 16 countries, including stops in Russia, France and the U.K. before closing on Wednesday, July 2 in Kiev, Ukraine.
"Aerosmith and Slash have been one of the top concert ticket sellers nationally since their tour announcement earlier this week. By virtue of each artist's massive, multi-generational fan base dating back several decades, tickets are extremely popular," said Marta Ault at online ticket marketplace BuyAnySeat.com.
"That's why we're proud to offer fans a complete and continuously refreshed inventory of concert tickets, with a worry-free guarantee to protect their purchase," added Ault.
"To access the full listing of Aerosmith and Slash tickets we now have available, customers can go to BuyAnySeat.com and search for Aerosmith and Slash – then select their tickets."
In discussing the tour, Slash said, "Aerosmith is one of my all-time favorite bands, and one of the greatest rock 'n roll bands of all time. It's an honor for me to go out and tour with them and keep the rock 'n roll banner flying high."
For Aerosmith, the coming road trip is another chance to spread the word on 2012's Music From Another Dimension, the band's first new material in 11 years. Slash, meanwhile, is reportedly working on his third solo album with producer Michael Baskette. While there's no release date yet, the tracks will be the follow up to 2012's Apocalyptic Love.
Aerosmith was formed in Boston, Massachusetts in 1970, and today ranks as the best-selling American rock band of all time after tallying sales of over 150 million albums worldwide. With 25 gold, 18 platinum and 12 multi-platinum albums, they also own the most gold albums and total certifications by an American band, and are tied for the most multi-platinum albums by an American group.
In addition, Aerosmith has scored 21 Top 40 hits on the Billboard Hot 100, nine Number One mainstream rock hits, four Grammy Awards, six American Music Awards and 10 MTV Video Music Awards.
Inducted into the Rock and Roll Hall of Fame in 2001, the group's most popular hit "Dream On" was written by Steven Tyler four years before the band even formed. It rated first in a Rolling Stone Reader's Poll of top Aersomith songs, followed by "Sweet Emotion", "Walk This Way", "Back in the Saddle", "I Don't Want to Miss a Thing", "Seasons of Wither" and "Mama Kin".
Slash is best known as the former lead guitarist of the American hard rock band Guns N' Roses, with whom he achieved worldwide success in the late 1980s and early 1990s. Time magazine named him runner-up on their list of "The 10 Best Electric Guitar Players" in 2009, while Rolling Stone placed him at 65 on their list of The 100 Greatest Guitarists of All Time in 2011.
To shop for Aerosmith and Slash tickets, visit BuyAnySeat.com.
About BuyAnySeat.com: An online ticket marketplace, BuyAnySeat.com connects sports, theater and other live entertainment fans to an extensive worldwide network of ticket sellers. The site's simplified listings and navigational tools enable fans to easily locate, compare and purchase inexpensive, discounted or lower-priced tickets to virtually all advertised sports and entertainment events around the globe.
The online marketplace, which is PCI-compliant and Norton Secured, also provides customers with a complete Worry-Free Guarantee on all ticket purchases. Based in Denver, Colorado, BuyAnySeat.com is a subsidiary of Denver Media Holdings. For more information, please visit http://buyanyseat.com.