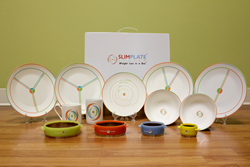 ...The SlimPlate App allows helps users to snack without derailing their diet...
Rock Hill, SC (PRWEB) April 16, 2014
Snack time can be difficult when on a diet. The want for something fulfilling but don't want to eat too much can drive a person crazy. Snack time doesn't have to be challenging, thanks to the SlimPlate App created by the inventors of the diet, the SlimPlate System. It allows users great information on meals while dieting. Snacks are an important part of weight loss, as it keeps the metabolism going between meals. Snacks should be 100 calories or less. Here are some examples of snacks from the SlimPlate System weight loss app for android or iPhone:
1. Fruit - A great way to get something sweet without derailing a diet is to eat fruit. Fruit is not only healthy, but also can fill the sweet craving. Fruits to use for a snack can include apples, banana, grapes, orange, or peach. There are plenty options for someone. But remember fruits are sugars too so while a slice of watermelon is ok but not the whole watermelon.
2. Nuts - The feeling of being satisfied with a snack can be completed by nuts. There are plenty brands to choose from, including: Almond Accents, Blue Diamond, Fisher, Lance and Planters.
3. Yogurt - If a person is seeking flavor, yogurt has plenty of flavors that makes the decision easy. The SlimPlate App offers information on brands including Breyers, Dannon, Oikos, and Yoplait and other yogurt brand products you can eat as a snack without derailing your diet.
4. Popcorn - A favorite after dinner snack is popcorn. Some diets are very strict and don't not allow popcorn, but with the SlimPlate System and the SlimPlate App, a person can eat popcorn from Jolly Time and Newmans. The SlimPlate App offers the suggested serving of popcorn.
5. Potato Chips - The food item that causes a lot of diets to derail are chips. Chips are also allowed, as long as one portions the chips correctly and doesn't eat straight out the bag. The SlimPlate App displays the best chips to eat and how much to eat.
For full details on suggested servings of snack, download the SlimPlate App. Find more information about the SlimPlate System, a 13 piece portion control weight loss and diet kit here.
The SlimPlate System was created by two well-known weight-loss Physicians. Dr. Myo Nwe is a Diplomate of the American Board of Obesity Medicine and is Board-Certified in Internal Medicine. She co-founded the Ace Medical Weight Loss Center. Dr. Sandeep Grewal, M.D. is Board-Certified in Internal Medicine and was the recipient of The Charlotte Business Journal's Health Care Innovator Award for 2012, and also named to the Top Forty Under Forty List in 2013.