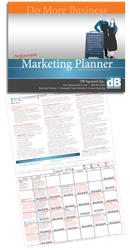 We want to help clients grow their business from where they are today, to where they want to be tomorrow.
Seattle, WA (PRWEB) April 12, 2014
Business finance company DB Squared has announced that a free summer 2014 restaurant marketing calendar will be available for download to email subscribers through June 15, 2014. The planner is an expanded excerpt from Amazon-published author Elizabeth Kraus' 2014 Small Business Marketing Calendar.
To download the free March-April marketing planner, individuals simply need to subscribe to email updates from the company. After subscribing, they are immediately taken to a page where they can download the marketing planner as a PDF. DB Squared plans to keep this resource available for download through mid-June.
The three month restaurant marketing calendar give-away comes on the heels of a two month marketing calendar given away earlier this year for small businesses. While the summer 2014 version was designed with restaurants in mind, small businesses that are looking to reinvigorate sales during the summer months are also encouraged to download the planner, since it is an adaptation of pages from the 2014 Small Business Marketing Calendar, published earlier this year DB Squared marketing manager Elizabeth Kraus.
"We are sincere about our mission," said DB Squared Vice President Tom Glazier. "We want to help our clients grow their businesses to the next level. Our goal in providing resources like the summer 2014 restaurant marketing calendar is to give our clients a tool that may be able to help them grow more quickly."
The restaurant marketing guide was designed for use at the 2014 NWFS (Northwest Foodservice Show) in Seattle on April 13-14, 2014, where DB Squared plans to exhibit. Geared for small to mid-sized business use, the planner seeks to present best practices for web, social, mobile and content marketing in the form of actionable, easy to understand and easy to implement tactics that even non-tech savvy marketers can master.
About DB Squared
DB Squared Inc. is a privately held business financing company offering receivables financing for B2B organizations and business cash advances for restaurants and other B2C (business-to-consumer) enterprises. In it's 5th year of operation, the DB Squared team has more than 100 years combined business financing experience and also enjoys the strong foundation provided by its parent company, a private consumer finance organization in its 30th year.
About Elizabeth Kraus
Elizabeth Kraus, DB Squared marketing manager, is a published author and speaker on small business marketing whose work is available on amazon.com and includes annual marketing calendars written for restaurants and other small businesses, as well as 365 Days of Marketing.