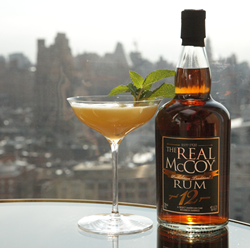 Stonington, CT (PRWEB) April 14, 2014
The Real McCoy Rum takes a closer look at Tax Day and finds reason to rejoice. April 15—a day fraught with frantic, last minute trips to the post office, long hours spent digging through personal files and sometimes, big hits to the checking account. But this year, don't give into the hassle and stress. Celebrate Tax Day, because of the role it played in abolishing one of the darkest periods in American history: Prohibition.
"When the Great Depression hit, income tax no longer provided the government with enough revenue, leaving Uncle Sam searching for money elsewhere," explains Bailey Pryor, President and CEO of Real McCoy Spirits Corp. "That other source became the taxation on the sale of liquor, which spurred the end of Prohibition, filling the federal reserves and delighting American imbibers. We've decided to find the silver lining and celebrate this fact with a cocktail made just for the occasion."
This year's looming Tax Day falls on a Tuesday—giving double meaning to mixologist Brian van Flandern's cocktail, The Black Tuesday, named for the infamous Stock Market Crash on Tuesday, October 29, 1929. This Prohibition-style cocktail tops the smooth finish of The Real McCoy 12-Year-Aged Rum with a splash of champagne – to toast the end of another tax year.
Black Tuesday

1.5 oz. The Real McCoy 12 Year
½ oz. Fresh Lime Juice
1 oz. Simple Syrup
2 Dashes Black Sambuca
Muddled Mint
1 oz. Champagne
Glassware: Cocktail Coup
Garnish: Large Fresh Mint Leaf
Lightly rinse cocktail glass with Sambuca. Muddle mint in a mixing tin with lime juice and simple syrup. Add ice and The Real McCoy 12-Year-Aged Rum. Shake and strain into the cocktail glass. Top with champagne and garnish.
For more information on The Real McCoy Rum, visit http://www.realmccoyspirits.com.
About The Real McCoy Rum
The Real McCoy is a rum born from the story of Bill McCoy, the pioneer Rum Runner of the Prohibition era. A blend of column and pot still rum, The Real McCoy is a multi-award-winning super premium rum, made using only top quality black strap molasses and proprietary yeast, and is aged in toasted American oak bourbon barrels. The Real McCoy is produced by Foursquare Distillery in the province of St. Phillip, Barbados, West Indies and is available in 3, 5 and 12 Year aged expressions in CT, MA, NJ, FL and RI.