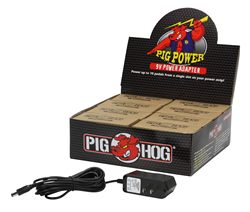 (PRWEB) May 01, 2014
Get powered up with PigPower adapters from PigHog - the latest addition to the brand's growing line of essential music accessories. The PigPower 9V power supply is a perfect fusion of utility and form. The adapters minimalist design requires only a single outlet, while it supplies 1000 mA for powering up to 10 pedals simultaneously.
PigPower adapters feature a generous 10ft. cable allowing the user to set it up far from a power source when needed, and are ready for international use with 110-240c compatibility. These versatile power supply's include a one year limited warranty, and work with most popular effects pedals, including Boss®, Dunlop®, Zoom®, Danelectro®, Ibanez®, Korg®, Morley® & more!
Don't let your power adapter hog up more than one space on your power strip!
Learn more at http://www.pighogcables.com.