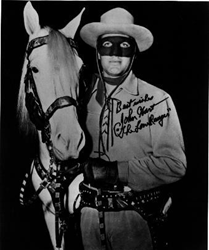 To any lover of westerns and firearms, this gun is truly a must see.
Cody, Wyoming (PRWEB) April 16, 2014
Lone Ranger John Hart carried the Colt .45, a single-action army revolver--now on display in the Buffalo Bill Center of the West's Cody Firearms Museum in Cody, Wyoming--when he portrayed "the masked man" in the original series between 1952 and 1954. It was one of several he used throughout his acting career. The firearm's coverage engraving and steer head ivory grips, completed by Master Engraver Ben Shostle, make this firearm particularly striking. To any lover of westerns and firearms, this gun is truly a must see.
In his early career, Hart appeared mostly in westerns. He played many minor roles in some fairly well known films, but audiences remember him most for replacing Clayton Moore in 1952 for two seasons of the television show "The Lone Ranger" when Moore demanded a higher salary.
Along with the revolver, the Center also acquired autographed photos of Hart in costume and an unconventional cookbook, "Cowboys in the Kitchen," he penned in the 1990s. The book is more of an anecdotal memoir of Hollywood tales, cheeky hunting advice, and even a section on "women and liquor." This book provides some levity in the kitchen and shows off the personality of the man behind the gun.
The Cody Firearms Museum has placed the Lone Ranger revolver and accouterments on display in its "Hollywood guns" exhibit case. For more information, contact Curator Warren Newman, 307-578-4092, or Assistant Curator Ashley Hlebinsky, 307-578-4048, or visit her firearms blog, Unloading the Myth.
Since 1917, the award-winning Buffalo Bill Center of the West has devoted itself to sharing the story of the authentic American West. The Center, an affiliate of the Smithsonian Institution, is currently operating its spring schedule, open daily 10 a.m. – 5 p.m., and launches its summer season May 1, open daily 8 a.m. – 6 p.m. For additional information, visit the Center's website or its pages on Facebook and Google+.