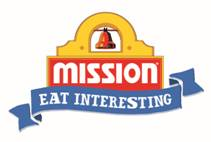 The world's best selling tortilla brand is giving away five new Ford Fiestas.
Irving, TX (PRWEB) April 14, 2014
Mission Foods is encouraging consumers to fiesta like you mean it for a chance to win a brand new Ford Fiesta. In celebration of Cinco de Mayo, the world's best selling tortilla brand is giving away five new Ford Fiestas, a retail value of $15,000 per car. The "Fuel Your Fiesta" sweepstakes will run from April 1 to May 6, 2014.
For details on sweepstakes entry and a chance to win one of the Ford Fiestas, simply visit either Mission's Facebook page or WinAFiesta.com. Consumers should also look for specially marked packages of Mission products, including Super Soft Tortillas and Brown Bag Chips for an opportunity to gain five automatic entries into the sweepstakes. Winners will be selected on or around May 19, 2014.
To support the give-away, select retailers nationwide will have large Mission displays in-store, featuring special Ford Fiesta signage.
"Cinco de Mayo is a way to celebrate great food with family and friends," said Peter Thornfield, director of marketing with Mission Foods.
"At Mission Foods, we make life fun," Thornfield continued. "Eat interesting with Mission products and take your festivities to the next level."
For more information about Mission Foods, visit http://www.MissionMenus.com. Follow Mission Foods on Twitter @MissionFoods on Facebook at http://www.Facebook.com/Mission.
About Mission Foods
Mission Foods, headquartered in Irving (Dallas area), Texas and a division of Gruma Corporation, and Gruma S.A.B. de C.V., a Mexican corporation, was founded in 1949, and is one of the largest tortilla manufacturers in the United States. Gruma S.A. de C.V. is the parent company of Mission Foods (Gruma Corporation) and is a leading Mexican producer of corn, masa and flour tortilla products. It has operations in Mexico, the United States, Central and South America, Europe and Asia. For more information, please visit http://www.MissionMenus.com.
###
Media Contact:
Lindsay Martin
(916) 774-9600
lmartin(at)augustineideas(dot)com