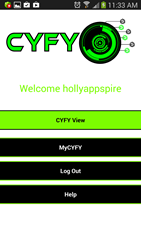 I created this app because I believe now is the time to grow Augmented Reality from its practical uses and explore the realm of creativity and art.
Princeton, NJ (PRWEB) April 15, 2014
CYFY, a social augmented reality app created by independent developer Owen Fayle, officially launched in iTunes and Google Play this week. CYFY redefines the way photos are shared using patented technology, paired with a virtual graffiti tactic; displaying art and photos based on the user's physical location, using sensors available on today's smartphones.
"With today's advances in technology, we are no longer lost when visiting new cities when using our phone's navigational capabilities. We can now easily locate a highly-rated restaurant within a few block of our current location, or find the nearest modes of public transportation, but I wanted to take things a bit further," says Owen Fayle, Founder of CYFY INC.
CYFY, with its simple functions, covers a wide range of uses. While walking down a street, users are able to discover geolocated images within "CYFY View"; a live, 360 degree camera feed of photos that have been posted by other users. A radar at the top of the screen displays the locations of images within a half a mile of the user's location; photos within 15 meters of the user can be selected to expand to full-screen view, and comments can be posted. CYFY is also a useful app for businesses as well – users can post a photo of a meal they just ate on the front of a new restaurant, or a picture of a beautiful painting in a museum. When users walk by in CYFY View, they'll gain real insight as to what other people experienced, and what locals are saying about it.
"I created this app because I believe now is the time to grow augmented reality from its practical uses and explore the realm of creativity and art. Thanks to apps like Google Maps, users have the ability to see a street view of any place in the world; my goal is to reveal a hidden layer of reality that stimulates and spurs creativity," said Fayle.
CYFY not only bridges the gap between the virtual and real, but it allows users to share their discoveries, and works of art, across social media; leaving a trail of digital breadcrumbs for friends to see where they've been.
CYFY is available now for free in the Google Play Store and iTunes.
About:
Owen has over 14 years of experience within the software industry and has held a range of roles from leading research projects within a Radical Engineering Division to developing bespoke web applications. He is a programmer and a senior solution architect with experience in multiple languages and platforms.
Owen holds a Master of Science in Computer Science from New York University.